Yad Vashem criteria
The Department of the Righteous Among the Nations operates at the Yad Vashem Institute and accepts applications for this title. The submitted documentation is analysed by a special commission, which then issues a decision.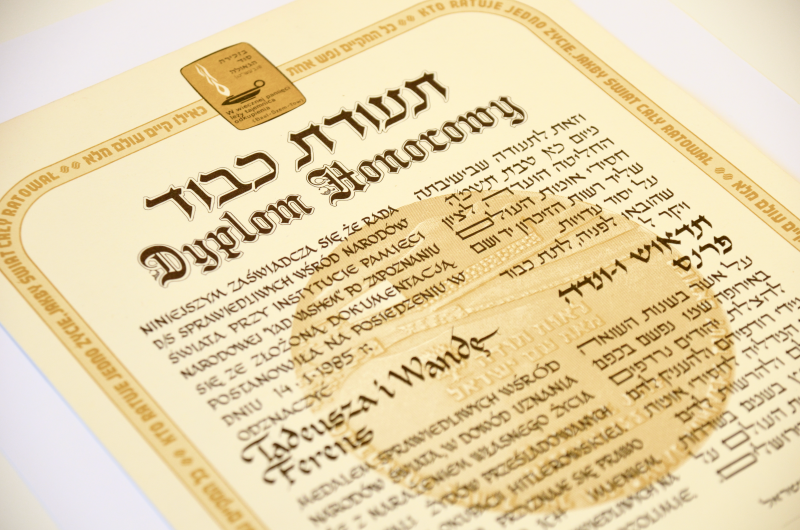 How to receive the title of Righteous Among the Nations?
Survivors and their relatives can apply for the honorary title of the Righteous Among the Nations to be awarded to those who helped Jews during World War II. Exceptionally, applications can also be submitted by the rescuers, their relatives and witnesses of the events. However, their applications are auxiliary in nature, so it is necessary to provide as much information as possible about the Survivors (names, addresses, etc.) to help historians from the Yad Vashem Institute contact them in order to verify their testimonies.
Applications should be sent to the Department of the Righteous Among the Nations of the Embassy of Israel in Poland or directly to the Department of the Righteous Among the Nations of Yad Vashem in Israel.
Criteria of the Yad Vashem Institute
The basic criteria for awarding the title of the Righteous, binding in all countries:
---
the person actively worked to save one or more Jews who were under the threat of death or deportation to an extermination camp,
while providing help, the person risked their life, freedom or job,
the motivation was a selfless need to help persecuted Jews, the aim of which was not to gain material or other profits,
there are survivors' testimonies or at least clear documentation describing the type of assistance provided and its circumstances.
---
Procedure following the examination of the application
After the commission has approved the application, the Yad Vashem Institute sends letters notifying of the award of the title of Righteous Among the Nations to the applicant, the persons mentioned by the applicant as witnesses, as well as to the Embassy of Israel in Warsaw.
After receiving the letter from Yad Vashem, the Embassy of Israel organizes a formal ceremony of awarding the medal and diploma to the person indicated in the letter.
The medal awarded by the Yad Vashem Institute is an honorary title and therefore does not involve any compensation or financial rewards. The Righteous (and in certain cases their immediate family - spouses and children born before 1939) are entitled to a veteran's allowance in Poland.
More about the rules of awarding the title Righteous are available on the Yad Vashem website.
---
---
Read more
---
---