We are Searching for Relatives of the Righteous
The Israeli Embassy in Poland is searching for relatives of individuals who have recently been honoured, by Yad Vashem in Jerusalem, with the title of Righteous Among the Nations. Without these relatives, it will not be possible to posthumously make the presentation of the medal and certificate during a ceremony in Poland. We publish, here, a list of names of those Righteous, with a request for public assistance in this matter.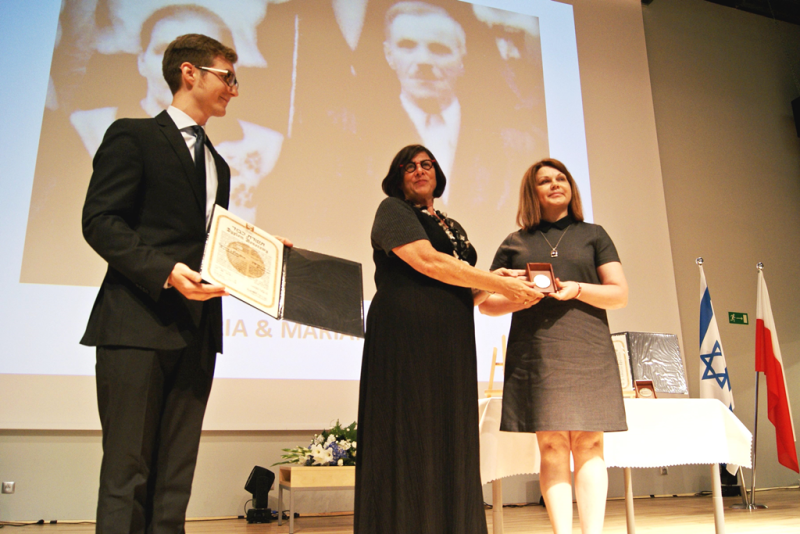 So far this year, the Righteous Department of the Israeli Embassy in Poland has conducted six ceremonies honouring Righteous Among the Nations. These took place in Lubań (27th February), Dzierżonów (28th February), Warsaw (20th April), Kraków (30th June), Szczecin (8th August) and Wrocław (10th August). During those ceremonies, thirty one individuals were honoured, thirty of them posthumously.
Further ceremonies are planned for the families of over sixty Righteous, for the title to be offically awarded. For the next sixty seven individuals, it will not be possible to posthumously make the presentation of the medal and certificate without, first, making contact with their relatives who would accept in the honour in their name. Therefore, we now seek any relatives of the following Righteous:
Józef Biesiada
Anton and Anastazja Bigos, as well as Julia Ciurko
Anastazja Bitowtowa
Mother Superior Tekla Budnowska, Sister Zofia Olszewska and Sister Blanka Pigłowska
Katarzyna Bydoń
Adam Czternastek
Franciszek and Maria Dąbrowski
Maria Dobrowolska
Jerzy and Emma Drzewiecki
Zofia Greloch
Włodzimierz Janczewski
Wincent and Janina Jaruk
Józef and Rozalia Józak
Stanisława Kłapa
Stefan Kondratowicz
Michał and Marianna Kowalczyk
Helena Kruszelinicka and her mother Malwina
Cecylia Krzemińska
Franciszek and Jadwiga Krzyształowski
Tadeusz and Eugenia Kucharski
Zofia Libich
Stefan and Maria Magenheim
Jadwiga Markowska
Janina Mikołajewicz
Franciszka and Stefania Mikowski
Michał Mikulski
Anna Płonka
Jadwiga Romanowska
Zofia Różycka
Maria Rutkowska and Stanisław Osuchowski
Janusz Rybakiewicz
Stanisława Samborska
Antoni Sokołowski
Zofia and Józef Surowiecki, as well as Kazimierz Ben
Andrzej Tarasek
Jan and Olga Thiel
Maria Walewska
Józef and Sabina Więckowski
Anastazja Wojtkiewicz
Karol Wolański
Ewa Janina Wójcicka
Sister Julia (Kantalicja) Zagrodzka
Marianna Zatorska
Zofia Zawadzka
Maria Zborowska
Janina Zilow
Jan and Aniela Żarczyński
If you are able to help the Israeli Embassy in Poland to cntact any relatives af the above-named people, we ask you to contact:
Emil René Jeżowski
Departament of the RIghteous Among the Nations
Embassy of Israel
ul. Krzywickiego 24
02-078 Warszawa
tel. (0048) 22-597-05-47
fax. (0048) 22-825-16-07
education@warsaw.mfa.gov.il
* * *
Information about the Yad Vashem Institute's procedure in presenting the State of Israel's highest civic award, the title of "Righteous Among the Nations of the World", can be found here: Kryteria Yad Vashem.