The Premiere of "The Zookeeper's Wife" (Azyl) – a Film About Jews Hidden in the Warsaw ZOO
Today, cinemas in Poland and around the world will begin screening this long-awaited Hollywood production telling the story of how ZOO Director Jan Żabiński, and his wife Antonina, rescued many Jews during the Holocaust.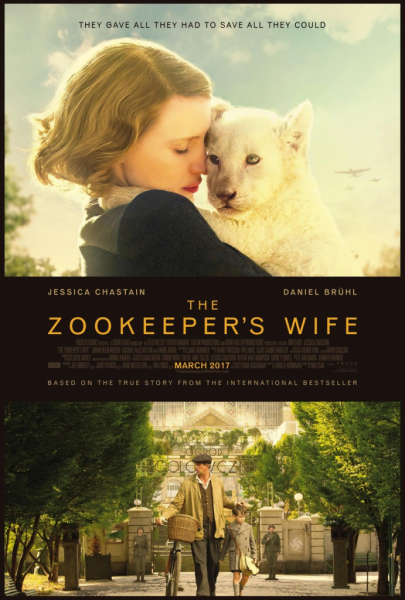 "The House Under the Wacky Star" – during World War II, this was the description of the house in which lived Warsaw ZOO Director Jan Żabiński and his wife Antonina. During the Holocaust, many Jews were hidden there – among them, writer Rachela Auerbach, sculptor Magdalena Gross and Samuel Kenigswein and his family. In recognition of their efforts, in 1965, the Żabiński couple were honoured with the title of Righteous Among the Nations.
The production of this biographical film was announced back in 2013, but filming only began two years later. The film, directed by Niki Caro, is based on the book entited "The Zookeeper's Wife", written in 2007 by American author Diane Ackerman. She, in turn, based her book on the recollections of Antonina Żabińska who is the film's heroine. In the film, her role is oplayed by Hollywood star, Jessica Chastain, a winner of the Gold Globe Award and twice niminated for an Oscar for her roles in "The Help" and "Zero Dark Thirty". The role of Jan Żabiński is played by Johan Heldenbergh, known mainly for his role in "The Broken Circle Breakdown". The role of the dubious Nazis played by Daniel Brühl.
The film was not shot in the Praga district of Warsaw, the site of the actual events. It was shot on the streets of the Czech capital of Prague. The film's producers could not see the potential in using the authenticity of the Warsaw ZOO which, since 2015, visitors have been to see the restored house of Jan and Antonina Żabiński. Whether this decision was effective can be now ascertained following the film's World Premiere.
---
Read More
---
---
See Also
---
An interiew with Zoo Holocaust Survivor Stefania Koenigswein and the Żabiński couple's daughter, Teresa Zawadzka, from the Oral History Collection of the POLIN Museum of the History of Polish Jews: