Tuwia Lewiński. Two souls
Tuwia Lewiński became accustomed to remaining silent about his childhood, which fell during the period of Word War II. After many years, he met with Bronek Sagan, who saved his life, which led Tuwia to tell his story.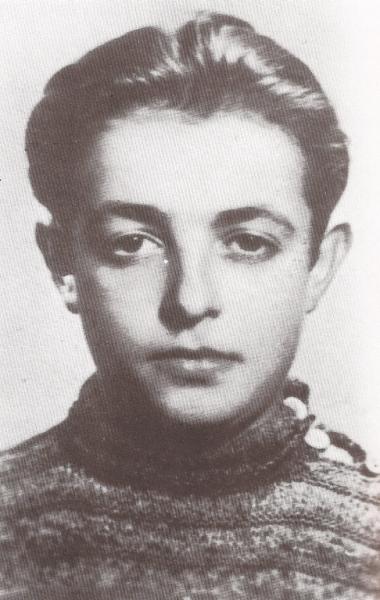 I was born in 1932 in Radzymin. My father was a butcher; he had two stores. He came from a rabbinic family of the Lewińskis, and my mother – from the Platkowskis. I had a brother, Levi Izhak and three sisters. My family was religious; we celebrated all holidays. We spoke Yiddish at home.
I studied in a cheder. The war broke out before I started second grade. Father was drafted into the Polish army, and we, the children, stayed with mother at home. When Poland surrendered, father managed to return to us.
In 1940, the Germans created a ghetto in Radzymin. We had to move there. It was overcrowded; there was lack of food. In order to protect the family from hunger, father killed two cows and hid the meat. Unfortunately, his acquaintance, a policeman in the ghetto, informed on us. The meat was confiscated, and father ended up in Pawiak [prison] in Warsaw. He was released after nine months. After his return, and upon anticipating the worst, he ordered us – me, my brother, and my sister Rajza – to escape from the ghetto. My parents remained with my youngest sisters, Rachela and Riwka.
We escaped in winter 1941. After two weeks of wandering, my sister missed our parents so much that she decided to return to them. We do not know what happened to her. My brother and I reached the Karnebek village. Levi Izhak worked as a farm help, and I – as a shepherd. In fall 1942, someone informed on my brother to the farmers; gendarmes came and killed him. I began a lonely wanderer's life. I went from village to village asking for work and a piece of bread. I used to sleep in barns and in pigsties, without food, and without possibility to wash.
I fell sick with jaundice. Fever-stricken, I lay in some barn, when suddenly a peasant came and called out, "Jew, run!" Despite the frost and sickness I jumped out and ran into the forest. I heard shots; I was frightened. I climbed a tree and hid between branches. It turned out there were partisans in the forest. They helped me and I was cured while staying with them. Today I ask myself where did I find the strength to escape from the barn? After many years, I have explained it by the existence of a "second soul." This is a theory I have learned in the Israeli army. My commander believed that a human being had two souls, and the second one activates survival forces when a person is in a difficult situation and cannot count on anyone's help.
After much wandering, I reached a large farm in the Kowalewice village near Płońsk. A "nobleman" owned the farm. He hired me as a farm help – I plowed and threshed, and worked in the barn. I had something to eat and where to sleep, but the "nobleman" treated me badly. One day he beat me until I was unconscious.
Nearby lived a boy about my age, Mietek Gerwatowski. We were friends. In November 1942, he offered that I move to his house. After one night, however, I had to leave because the village elder was informed that a Jewish boy was hiding in the village. Mietek's mother, Kasia, hid me in a straw-covered cart, and took to a neighboring (her family) village of Wólka Szczawińska. A young peasant, Bronek Sagan and his brother Stefan lived there.
I started living with them from winter 1943. Bronek took care of me. The day after my arrival he said, "you are my son." He really was like a father to me, but also a friend. He had strong influence on my character and worldview. I owe my life to him. Bronek called me "Tomek."
I gained a house, to which I could always return. I had to escape to the forest a few times due to denunciations, but I was always taken back. One time, when the gendarmes came to look for a Jewish boy as a result of a denunciation, Bronek hid me in the barn and covered with me with straw. The soldier conducting the search had stabbed his rifle a few times in that straw. He injured me, but I did not utter a sound.
I had to run to the forest a few times. During one such escape, a tragedy happened. When Stefan saw two soldiers on horses, who were entering the yard, he immediately yelled. "Tomek, run!" In that same moment the German fired a shot and killed Stefan on the spot. I ran away, but returned in the evening and I encountered a family preparing for a funeral. Everyone still continued to respond to me with love. Today, when I think about it I realize how strong and wonderful these people were.
I stayed with Bronek, but the situation was still dangerous. In 1944, following the advice of my caretaker, I left the house and went to the partisans. It turned out that Russian soldiers had joined them. In a too big coat and military hat I mounted a Russian tank. Soon we reached Berlin. However, I did not want to stay there, but return to Bronek. Having reached Nowe Miasto near Płońsk, I was caught as a deserter and escorted back to Berlin. I was charged with espionage and immediately sentenced. When I sat in the arrest, a miracle happened. Someone slid in civil clothes, a document with my last name and called out in Yiddish, "Tuwia, run away!" I do not know who my savior was.
I escaped to the railway station, hopped on a train, and hid in a large bell from a church destroyed by the Russians. Secretly, I reached Nowe Miasto, and from there – Bronek's house. When we met, he said, "The Germans did not kill you, but here the Russians will kill you, you have to return to yours [your people]."
Bronek's words raised a dilemma for me. On the one hand, I had a warm house here, and on the other hand I missed Jewishness, that which I remembered from my family town. In 1947, a Jew appeared at Bronek's house who wanted to take me to an orphanage for child survivors. At first, I declined to leave, but after three months I decided to go. The entire family bid me emotional farewell.
I went first to Warsaw, and then to Łódź. There I joined the "coordination" group, an organization for child survivors. An officer Mosze Jaruhamzon-Jankowski was active in it. The time I spent there was a difficult one. It was not easy to return to Jewishness, especially since it was not the same as I remembered it from my childhood. But I felt I was a Jew again.
After a few-month stay in Łódź we headed for Palestine. After another few months in Marseilles, France we boarded the ship "Kadima." Upon arrival, I was sent to the "Ramat Dawid" kibbutz. It was hard for me to get used to the local mentality and way of life. I missed the warmth and love of my caretakers. I studied there and worked.
Mosze Jaruhamson-Jankowski found me in the kibbutz and took me to his house in Holon in 1949. Mosze and his wife became my foster parents. After a few months I was drafted into the army. During my service I met Zipora, my future wife.
Until 1956 I kept in touch by mail with Bronek and Mietek. In 1988, as soon as Polish-Israeli relations were renewed, I went to Poland together with my wife to visit Bronek and see our family places.
My visit in Radzymin was difficult. From my family numbering some 350 people, no one except for me survived. We visited Bronek and Mietek; this was a very emotional meeting. During my visit, Bronek pointed to a forest near his house and said: "This is your forest. Tomek's forest." During my time in hiding, I have planted several trees there.
Bronek accepted our invitation to come to Israel, where he arrived together with his daughter in 1989. During their two-month stay, Bronek was awarded the "Righteous among the Nations" medal. Mietek has also visited me.
To my joy, my sons remain in constant touch with Bronek's family [Bronek died a few years ago]. Members of my family and I visit them, and they visit us.
The text is a short version of the book which was published by the author in the 1990s in Hebrew and was donated to Yad Vashem.
Translation to Polish and edition: Janina Goldhar
Translation to English: Joanna Sliwa