Jakoba Blidsztejn (Danuta Dąbrowska)
Jakoba Blidsztejn (Danuta Dąbrowska)
Jakoba (Kubusia) Blidsztejn was born in Berlin in 1925. Her parents,  Henryk Blidsztejn (born in Nowogródek) and Idalia Jurzdycka (born in 1890 in Samochwałowice near Mińsk Litewski) were Polish Jews, who had met and married in Germany. Both of them finished medical studies in Poland; her father was a doctor, and her mother – a dentist. In the beginning of the 1920s, they went to Germany to complete their residencies.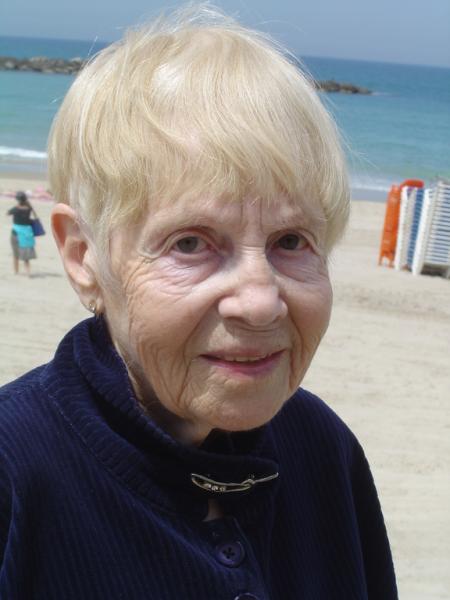 Following Hitler's ascent to power, Jakoba's parents returned to Poland. They were already divorced. Her father settled in Wilejka. Jakoba with her mother and mother's sister resided in the 1st colony of the Warsaw Housing Association (WSM; Warszawska Spółdzielnia Mieszkaniowa) at the Wilson square in Żoliborz, where they had lived until the war broke out.
They then moved to the newly created ghetto. Soon, Jakoba's mother realized that the regime was milder in ghettos located in other places; and they moved to the ghetto in Falenica (today it is a district of Warsaw).
Jakoba did not quit education. She commuted to Warsaw few times a week to attend clandestine middle school classes. Classes were organized by the Workers' Association of Friends of Children school, which Jakoba had attended before the war. During one of such trips she was stopped by a Polish blue policeman at the Eastern Train Station. Preparing to escape from the ghetto, Jakoba's mother, Idalia, had previously made arrangements for obtaining illegal documents (according to which Jakoba was named Danuta Dąbrowska), but failed to find an appropriate apartment. Although her papers were "in order," Jakoba told the policeman her real name and address in the ghetto. Today she is unable to explain why she had done so. The policeman, together with his friend, came to the given address and demanded from Jakoba's mother to reveal who had prepared their papers. Her mother treated the policemen to sausage and vodka and said that she would not disclose whence she had the papers because that, in turn, would incriminate very decent people, who were Poles. The drunk policemen accepted this argument and, being handed additional gifts, drove off.
Fearing a return visit from the policemen, the women escaped from the ghetto. In a rented room at 9 Wyspiańskiego Street in Żoliborz, they again experienced a visit from blackmailers. These, in turn, demanded a larger sum under the threat of denunciation to the Gestapo. Because Jakoba's mother did not have the required amount, she, together with the Polish blue policemen, went to an acquaintance, Dr. Poczętowska (or Poczentowska) for a loan and handed the bribe to her persecutors.
Mrs. Poczętowska had previously agreed to make her dental office available to Jakoba's mother. There, twice a week, Jakoba's mother treated her trusted patients.
Once, on the street, someone called Jakoba a kike. The incident had no other consequences, but her mother, fearing for her daughter's safety, placed Jakoba in an orphanage ran by the Main Welfare Commission (RGO; Rada Główna Opiekuńcza). Jakoba stayed there for a rather short time; she was told she could not remain there much longer.
Idalia was able to place her daughter in the Heart of Mary convent on 3 Kilińskiego Street. She survived there until the outbreak of the Warsaw Uprising. Following the downfall of the Rising, she was taken together with the entire orphanage and nuns to Germany, to perform forced labor near Berlin. At first, she worked for a farmer, in a village. She was later sent to an armaments factory, where she operated a metal milling machine/a drill machine. She remained in the factory until the Russians had entered.
She returned to Warsaw with a group of prisoners of war, all Warsaw Uprising insurgents. She quickly made contact with her mother and aunt, both of whom had also survived the war.
After the war, she graduated with a degree in Romance Philology from Warsaw University. In 1950, she married Edmund Gonczarski, journalist for Poprostu (Just). In 1960, she got divorced.
She worked at the Jewish Historical Institute in Warsaw until 1968. That same year she emigrated to Israel with her then 14-year-old daughter, Urszula.
Until her retirement she worked at Yad Vashem in Jerusalem.
She retained her name, Danuta Dąborwska, from the occupation time until this day.
After the war, Jakoba's family did not have contact either with Dr. Poczętowska or the other people who had helped them survive the war.
Edited by Jadwiga Rytlowa and based on an interview conducted in Israel in March 2011.
Translation: Joanna Sliwa