Jadwiga Bauman (Abigail Shahar). A Prayer for Rain.
My name is Abigail Shahar. I was born as Jadwiga Bauman. The following are the names of people who risked their lives in helping me and my family survive the War: Wanda Korniłowicz Szczerbetko, Krystyna Szczerbetko, Janina Michońska, Zofia Topińska, Jan Topiński, Bronia, Kazimierz Piętka,Wanda Piechal, Rena Zakrzewska, Adam Zakrzewski.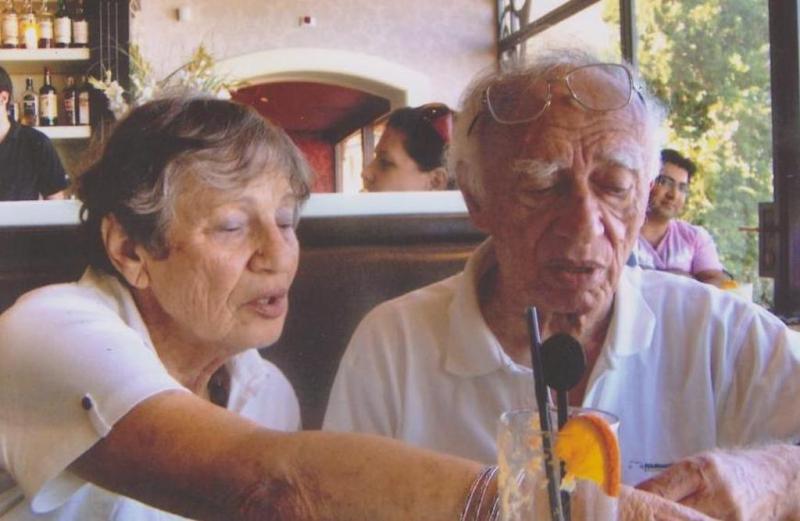 I was born in Kraków in 1929 to a middle-class family. My father, Jakub Bauman was the respresentative, in Kraków, for a Poznań factory. My mother, Paulina, was a housewife. Despite being completely not religious, Jewish traditions were maintained at home. Candles were lit on Friday night and we fasted on the Day of Atonement.
Together with my sister, Irenka, who was three years younger than me, we had a happy childhood. Everything ended with the beginning of the War. In 1939, my father was mobilised. He was drafted, but later in autumn, he was discharged. We stopped going to school. The Germans did not occupy our apartment (it was in an annexe) and, at that time, that was the important. In February 1941, the whole family was ordered to leave Kraków. We moved to Wieliczka. My mother's parents lived with us. My sister and I went attended clandestine classes (there were no schools for Jews). We had a lot of friends and, for two girls, apart from some minor incidents, the War passed us by.
Star of David Armbands
In summer 1942, we received the news that Jews from the entire region were to gather in the Wieliczka main square. Mum was a prudent and determined person. We took off our Star of David armbands and travelled to Kraków. That was a very brave step. Grandfather was so against this that he did not even say goodbye to us.
In Kraków, we arrived at the home of Janina Michońska. She was my mother's friend. They grew up together in the same backyard. We stayed in her small apartment for around ten days. To stay longer in Kraków was dangerous because too many people knew us. During our stay with Janina, we found out what had happened in Wieliczka. The people gathered in the square were divided into groups - young men and women, women with children, the elderly. Of the Jews of Wieliczka, nothing remained. We did not know what had happened to those close to us. Janina found out that the young men were sent to Płaszów. I don't know how she managed to find father. As a sign, she brought his armband. I remember how, after she returned home, she placed it on the table. It had a gold buckle.
On the eve of the selections, Bronia, my grandmother's former housekeeper, came to Wieliczka and took her back to her village. Bronia was a tall blonde with a gretka (that's a type of hairstyle). I don't remember her surname. Along the way, children yelled at her that she was "walking with a Jew". Bronia chased the children away and, despite the dangers, she hid my grandmother in her home. My grandfather, my mother's sister Rózia and her small children were all sent away to their deaths.
A Holiday - Like a Ray of Sunshine
My mother, my sister and I travelled to Warsaw. My mother's other sister, Felicja, and her brother Ignacy, had lived in Warsaw for a long time. My aunt had the authentic papers of my cousins' governess which she had found in the apartment in Kraków. Auntie lived on Saska Kępa and was a weaver. Wanda Piechal, her friend, had helped her to settle in Warsaw. Her home was always open – even for us.
We arrived at the room of my uncle, Ignacy. He had already lived in Warsaw for a couple of months. Pani Zosia and Jan Topiński, friends from his student days, helped him to settle in Warsaw. They organised a room and arranged employment for him. He worked in the same office as Mr.Topiński.
We only stayed with uncle for a couple of days. We did not have an apartment in Warsaw. Auntie and mother decided that we would travel to outside of Warsaw. They chose Kazimierz Dolny by the Wisłą. At that time, Warsaw was bombarded by Soviet planes. Using that as a pretext, we rented a room in Kazimierz.
The Topiński family arranged papers for us. We were called Paulina, Jadwiga and Irena Borkowska. Grandmother also came to Kazimierz. Kazimierz Piętka, a friend of aunt Fela and her husband, transported her. Grandmother was hidden in Bronia's home. Kazimierz helped her in the ride to Kazimierz on the Wisłą. We stayed in Kazimierz for two months. In the meantime, auntie rented us an apartment in Warsaw, on Grochowski Street.
The Topiński family arranged an allowance for us. I travelled tp Saska Kępa everyday and helped my aunt in her workshop. At that time, the demand for homespun cloth was great. From the leftover wool, grandmother, mother, as well as my sister and I, knitted socks. Irenka read a lot.
From time to time, Janina brought us news of our father. Rena Zakrzewska, a friend of my aunt's, also worked with her. In summer, Rena went to the country with her children for a couple of days. She took me with them. I think, to this day, of how she had the courage to suggest the trip to me and, in doing so, how she exposed her own children to danger. For me, at the time, that short holiday was a ray of sunshine. I felt very happy in the country. Uncle Ignacy visited us on Grochowski Street every Sunday. Suddenly, he stopped coming. Later, it turned out, that everyone in the office where he worked had been arrested. As it happened, Mr, Topiński had not been at work at that time, and that had saved him. After a time, a letter arrived from the concentration camp with information that Ignacy Wrzos had died of typhus.
A Prayer for Rain
In Warsaw, I was still a naive girl with pigtails. When the ghetto burned and smoke could be seen throughout the whole city, I prayed for rain to put out the fire.
Sometimes, my uncle would visit us in Grochowski Street. One day, he came to us and asked if we could accommodate his sister and nephew for a few days. They had to run away and had nowhere else to go. Both had very Semitic features. As it happened, our neighbour dropped in while they were staying with us. It could have been the cause for him to denounce us.
On the 16th June 1944, four days before my birthday (I was fifteen years old), there was a sudden knock on the door. Germans stood there. They came in and soon began searching. They opened drawers and checked everything. They took me and my sister into the kitchen and, with the help of an interpreter, asked us where we had come from and if we were Catholics. I remember that, at a certain moment, we stood facing the wall or ordered, and Irenka whispered to me, "We're not going to get out of this". She was twelve years old. Following this, we returned to the room which the Germans turned over yet again. They found a poem which Irenka had prepared for my birthday. Irenka whispered to me, "It's not important anymore". I asked if I could go to the toilet. Earlier, a German had stood at the open door near grandmother. They allowed me to go alone. When I went out, I realised that everyone was in the room and that I was the only one in the hallway. It was a matter of an instant. I opened the door and went out onto the empty staircase. All the neighbours were inside their closed-up apartments. It was late evening and, by that time, it was already past curfew.
I ran down the stairs and went out into the street. In front of the building were two "buda's" full of soldiers. That's what trucks full of soldiers were called during the War. I thought, "They all came for us? I couldn't turn back. I walked confidently along the street. The leader, a short, chubby German, called out me. "Where are you going?", he asked through an interpreter. "To my friend's home", I replied confidently. "Don't you know that it's curfew". "But it's only nearby" – I pointed to a neighbour's home. "Return home", he replied. I returned to the staircase and went one floor down to the basement. I knocked on the caretaker's door. Frightened, they opened the door. "Go way quickly!" – and they closed the door. I went into one of the basement rooms. There was a window there that looked out into the backyard. I stood on a table that was there. The window was locked. I don't know how I managed to break the window and get through it into the backyard. I knew that a German was standing at the door to the staircase and to the backyard. I saw him before when I ran to the basement. I didn't look in his direction. He didn't shoot!
I ran across the backyard and into the side-street. At the house next door, children stood at the window to the staircase and yelled, "The Jew is escaping". I ran and ran, it was dark, the street was empty. As I ran, I saw a boy, maybe 18 years old. He asked, "Where are you running to?" I told him that they came to arrest us and I escaped and that that I'm running so Saska Kępa where my aunt lives. He replied, "I'll help you". He ran with me and showed me the way. He said that there was a camp of German soldiers in the fields and that I should be careful that they don't shoot me. After that, I ran through the field and could hear the Germans. I ran all the way to Saska Kępa. It was a long way. My aunt opened the door – it was already part midnight.
It was a very sad night. Auntie cried the whole time. The next morning, I went to the Topiński family. They already had a small son, Piotr. They were not living in their own apartments. Already in hiding themselves, they took me in. They lived together with Mr. Topiński's mother. She pulled a small cart and would take Piotr shopping. That same day, they arranged papers for me. I was now called Stanisława Irena Balcerzak. It was very difficult for me to remember my new name. At night, I would wake in fear, I couldn't remember my name and I listened closely if any car had stopped in front of the house.
After a couple of months, my aunt told me that my mother, sister and brother had been shot in Pawiak and couple of days after my escape. My mother had admitted that her name was Bauman, she gave her real name. That news was given to us by someone, from a branch of the underground, who had tried to free them from prison. After the War, I went once to Grochowski Street. A neighbour told me that my mother cried when the Germans took her away and yelled, "Give me back my child". She din't know that I had escaped. My mother had given her real name.
An Angel
I was with the Topiński family for a couple of days. From there, Adam Zakrzewski, Rena's husband, took me to Bronisz. Wanda Korniłowicz Szczerbetko, a friend of my aunt's, lived in Bronisz. Wanda welcomed my warmly, hugged me and said, "I am your auntie, and this home is also your home". Her daughter, Krystyna, my age, opened the wardrobe and said, "Jadzia, take whatever you need, take any dress." I became close friends with Krystyna, and I loved Aunt Wanda from the first moment. Aunt Wanda was the embodiment of an angel. She helped whomever she could. She took in a boy called Felek. Having a Jewish boy in your home in the country was very dangerous. Later, Felek joined the partisans in the forests. In aunt's home, there was also Inka, a young girl. She ran the farm farm together with a farmhand. Auntie had serious heart problems. Janek, her husband, was in hiding. He worked for the underground.
After the Warsaw Uprising, as the Germans removed people to Pruszków, many people found shelter in Auntie's home which was located by the main road. There, everyone received the same unseasoned potato and, for dinner, more than fifteen people would sit around the table. Everyone found somewhere to sleep there. Aunt Fela was on her way Bronisz when the Uprising began. She found herself in the centre of the city and the closest place where she could shelter was in Poznański Street where the Zakrzewski family lived. Rena and the children were in the country. Adam and the housekeeper were at home and so, together, they lived through the hard weeks of the Uprising.
Aunt Wanda said, "Jadzia, if your family doesn't return, you will be my daughter, Krystyna's sister, and I will divide all my assets in half". She repeated that constantly. After the Warsaw Uprising was put down, Auntie arrived in Bronisz. The Germans were taking people from Warsaw to Pruszków and Auntie escaped as they passed our home. A couple of people arrived with her, among them two Jewish women – Stefcia and Hanka, a mathematics professor, who immediately gather the children teach us mathematics. That's they was we all lived at Aunt Wanda's until January. In January, the Polish and Russian armies liberated Warsaw. With Auntie, we made our way across the Wisła River and returned to Saską Kępa. I insisted on returning to Kraków because perhaps my father would return and would be looking for us. At the beginning of February, we travelled to Kraków in open wagons. The journey took 24 hours. It was cold and it rained from time to time. We moved in with Janek Michoński. Later, we obtained a room with Mrs.Kowecka, a sister of Zosia Topińska. Auntie enrolled me in school and returned to Warsaw as it was there that she had her weaving workshop. In the Hotel Francuski, where everyone would gather for a very small and cheap lunch, I met an acquaintance who was travelling to Austria in search of her husband. I gave her a letter just in case she should meet my father. She found him in a hospital in Linz. Unfortunately, she never found her husband.
My father returned to Kraków in May. In the first few days, he spent nearly the whole time in bed, barely able to walk. He was in Mathausen for nearly a year. He'd carried stones in the quarries up along narrow paths. Many prisoners had already died after liberation from exhaustion.
Aunt Wanda died a couple of years after the War. I was in Broniszach a couple of times and Krystyna would come to me in Kraków.
In 1950, wwe emigrated with Dad to Israel. My aunt remained in Kraków. She married Kazimierz Piętka.
Report written by Janina Goldhar.