Professor Dariusz Stola Honoured with 2020 Irena Sendler Award
Taube Philanthropies has announced that the winner of this year's Irena Sendler Award is Professor Dariusz Stola, former Director of POLIN Museum of the History of Polish Jews. Profesor Stola has been honoured for his visionary management of the Museum – a prestigious and complex, public institution at a global level. The Museum achieved extraordinary successes throughout Professor Stola's term in office from March 2014 to February 2019.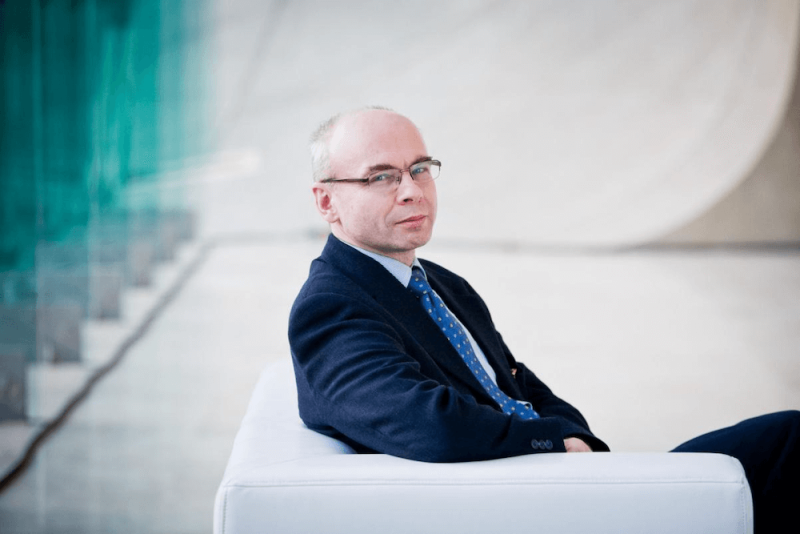 "Dariusz Stola is a most outstanding scholaar and museum director, whose recruitment we could only have dreamed of for the first years of the Museum's full activities. That is always a critical period for every, great, cultural institution. He was responsible for all POLIN Museum's outstanding activities, at every possible level", stressed Tad Taube, President of Taube Philanthropies and Honorary Polish Consul in San Francisco.
Dariusz Stola is a historian. He has a special interest in the history of Communist Poland, Polish-Jewish relations, in the history of the Holocaust international migrations and in collective memory. In 2013, he was awarded the Knight's Cross of the Order of Polonia Restituta for his research into modern history, especially regarding the events of March 1968.
Prof. Stola is the author and editor of more than 150 articles and 9 books. He headed POLIN Museum of the History of Polish Jews from the beginning of 2014, appointed by the then Minister of Culture and National Heritage Bogdan Zdrojewski. His first task was the Grand Opening of the Museum's Core Exhibition "The 1,000-Year History of Polish Jews" in October 2014 and to prepare the Museum to welcome hundreds of thousands of visitors.
Prof. Stola had previously developed his managerial skills as a university deputy-dean and as a research project manager. His numerous honours include the title of Gazeta Wyborcza's "Man of the Year" in the category of Culture, for his outstanding management of POLIN Museum.
"Through its Irena Sendler Award, Taube Philanthropies expresses its deepst recognition and friendship. We await the time when we will be able to work with Prof. Stola permanently", stressed Tad Taube.
---
---
The POLIN Museum's Achievements
Since its opening in 2013, POLIN Museum has been visited by 3.75 million people and almost 2 million people have viewed the Core Exhibition which was opened in October 2014. Around 44% of these visitors have come from abroad, the largest group from Israel, followed by the United States.
During Prof. Stola's term, the Museum received numerous awards, including the title of 2016 European Museum of the Year, the European Museum Academy Award and, in 2017, the Europa Nostra Award – the most important European award for outstanding achievements in the area of protection and promotion of cultural heritage. The Award acknowledged that POLIN had "created a safe place for inter-cultural dialogue, thus offering the modern world an important lesson".
"Regardless of whether it is about preserving and passing on Poland's Jewish heritage or deepening Catholic-Jewish relations, the 2020 Award helps people of different ages and origins understand Jewish culture in Poland as an integral part of Polish history and national identity", said Shana Penn, Executive Director of Taube Philanthropies.
This year's Taube Philanthropies' Irena Sendler Award was announced on 12th May 2020, on the anniversary of Irena Sendler's passing. During the Nazi occupation, Irena Sendler was a social worker who saved hundreds of Jews from the Warsaw Ghetto.
In the near future, plans will be announced for the presentationof the Award, eith at the Jewish Cultural Festival in Kraków or at POLIN Museum in Warsaw.
About the Irena Sendler Award
The Irena Sendler Award was established in 2008 by Taube Philanthropies, in honour of Irena Sendler, whom the Yad Vashem Institute has honoured as a Righteous Among the Nations. Each year, the Award is presented to individuals who have stood out in activities aimed at the preservation and revitalisation of the Jewish heritage of Poland. Nominations for the Awardare reviewed by a panel of Taube Philanthropies advisors and by Jewish cultural leaders in Poland.
About Taube Philanthropies
For more than thirty years, Taube Philanthropies has supported various educational, research, cultural, social and youth organisations in the San Francisco Bay area, Poland and Israel. The organisation was founded, in 1981, by businessman and philanthropist Tad Taube. The current director is his wife Dianne Taube. It works towards providing citizens with the freedom and opportunity to achieve their goals and dreams.
---
Irena Sendler Award Winners 2008–2019:
---
2008: Janusz Makuch, Director of the Jewish Cultural Festival in Kraków;
2009: Jan Jagielski, archivist, Emanuel Ringelblum Jewish Historical Institute;
2010: former President of the Republic of Poland Aleksander Kwaśniewski;
2011: Magda Grodzka-Gużkowska, who, at the risk of her own life, helped Irena Sendler to rescue Jewish children from the Warsaw Ghetto;
2012: outsanding scholars Prof. Dr hab. Maria Janion and Prof. Dr hab. Jolanta Ambrosewicz-Jacobs;
2013: Bogdan Zdrojewski, former Minister of Culture and National Heritage; Hanna Gronkiewicz-Waltz, former Mayor of Warsaw;
2014: Małgorzata Niezabitowska, author and journalist; Tomasz Pietrasiewicz, Director, Ośrodka "Brama Grodzka – Teatr NN";
2015: Krzysztof Czyżewski, Director, Fundacja Pogranicza; Dr Jan Kulczyk, eminent donor to the POLIN Museum of the History of Polish Jews;
2016: Prof. Dr hab. Monika Adamczyk-Garbowska, Professor of Jewish and Yiddish Literature at the Maria Curie-Skłodowska University in Lublin; Maria Piechotkowa, well-known architect and researcher into the architecture of Polish synagogues;
2017: Stefan Wilkanowicz, author, editor, educator and Catholic activist; Bogdan Białek, founder of the Jan Karski Association – Cultual Meeting and Dialogue Institute;
2018: Norman Conard, American educator, who drew the world's attention to Irena Sendler; Ola Bilińska, researcher into Yiddish culture and music.
2019: Zuzanna Radzik, sholar and activist in the field of Catholic-Jewish relations; Adam Bartosz, ethnographer and museum specialist.