The Planting of a Tree of Tears
A living monument, a weeping willow, dedicated to Jewish and Polish mothers who saved children during the Holocaust, was planted in Grzybowski Square, marking the 75th anniversary of the Warsaw Ghetto Uprising. During World War II, Plac Grzybowski was located within the borders of the ghetto. Participants in the ceremonial planting of the tree included Holocaust Survivors..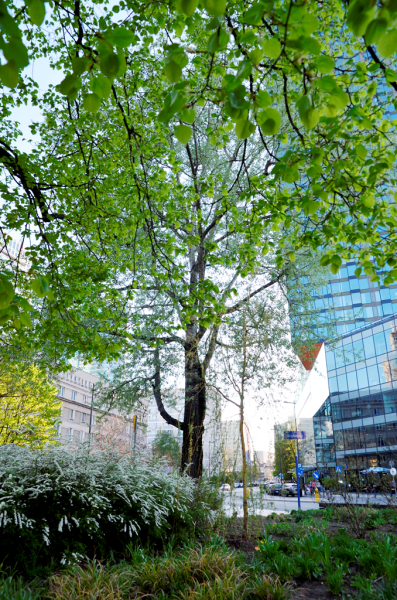 The event took place at the initiative of Gold Tencer, Director of the Warsaw Jewish Theatre and President of the Shalom Foundation. During the planting ceremony, she said:
The willow is dedicated to those Jewish mothers who experienced that most terrible drama of having to give their own child over to the "Aryan side" in order for that child to have the chance to survive. It is also dedicated to those Polish mothers who, at the risk of endangering themselves and those closest to them, saved those children.
This willow represents the tears of mothers, the roots which the Jewish people planted in Polish soil, the new shoots and leaves – the successive generations of Jews and Poles who live in this land, who visit this land and who should remember. Irena Sendler regretted that she never wrote a book about the women whose children she saved. We need to talk about this subject so that, never again, a mother will have to undergo such a dramatic experience.
Participants in the ceremonial planting included Chief Rabbi of Poland Michael Schudrich, Chairman of the Dialogue WIth Judaism Committee of the Polish Episcopal Conference Bishop Rafał Markowski, members of the Polish Children of the Holocaust Association, Holocaust survivor and philanthropist Sigmund Rolat, representatives of state and local governments, as well as residents of Warsaw.
During the event, President of the Polish Association of the Righteous, Anna Stupnicka-Bando (Her story can be read on our website), said:
Many Jewish children grew up and survived in Polish homes. (...) This tree will be covered in green leaves and will grow, just as the Jewish people have grown.
The ceremony concluded with a rendition of "Mein Yiddishe Mame" by clarinetist Dariusz Falana.