Irena Sendler Honored
On May 15, 2013, the President of the Republic of Poland Bronisław Komorowski, the Mayor of Warsaw Hanna Gronkiewicz-Waltz, Irena Sendler's daughter Janina Zgrzembska, Władysław Bartoszewski (a former member of the "Żegota" Council to Aid Jews) and many other prominent guests gathered in front of the Museum of the History of Polish Jews for a special ceremony – the official unveiling of a street name plate to honor Irena Sendler – the woman who saved about 2500 Jewish children during the Holocaust.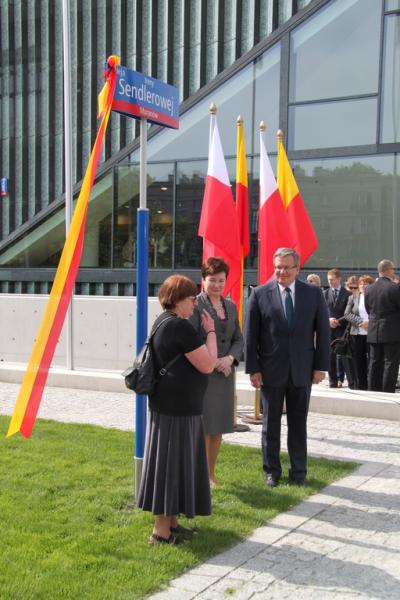 President Bronisław Komorowski's spoke at length of Sendler's achievement, emphasizing that for many Poles she stands as a symbol of bravery and decency in a time when so many remained indifferent to suffering and cruelty.
Following the ceremony, Andrzej Cudak accepted memorabilia, including Irena Sendler's Righteous among the Nations medal (bestowed on her in 1965), from Janina Zgrzembska on behalf of the Museum.
The ceremony was also attended by members of the Polish Society of Righteous among the Nations and of the Children of the Holocaust Association. Also present were students from five Warsaw schools named after Irena Sendler, who that morning had taken part in workshops organized by the Museum's Education Department and the Polish Righteous – Recalling Forgotten Memory project, creating impressive artworks inspired by their patron's life.
In 1940-1942, as an employee of Warsaw Social Welfare Department, Irena Sendler (1910-2008) organized help for Jews in the Warsaw Ghetto. In charge of the children's section of the "Żegota" Council to Aid Jews since the beginning of 1943, together with her colleagues she smuggled about many Jewish children out of the ghetto, placing them in foster homes, orphanages and convents.