The Exhibition "Hiding Places – the Architecture of Survival" in Szczecin
From 5th August 2022, the exhibition will be on display at TRAFO Trafostacja Sztuki in Szczecin. Presented earlier in Zachęcta, the exhibition is created by Dr Natalia Romik – researcher, designer and artist who, on many occasions in the past, has worked together with POLIN Museum of the History of Polish Jews. The exhibition of hideouts created and used by Jews during the Holocaust (1939-1945), is the result of interdisciplinary research by Natalia Romik and Aleeksandra Janus, together with a team of anthropologists, historians archaeologists and city explorers.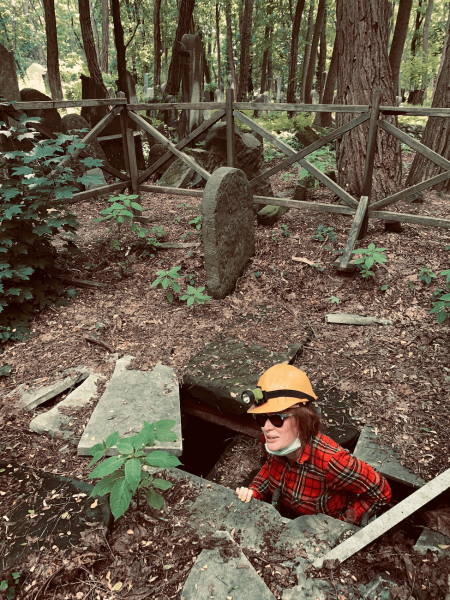 "Natalia Romik's* exihibition is an artistic tribute to the architecture of survival – hiding places constructed and used by Jews diring the Holocaust. They utilised tree hollows, wardrobes, city sewers, caves or empty graves in order to create a temporary shelter for themselves. Within the Zachęta halls are presented nine hiding places from Poland and today's Ukraine. Their sculptoral forms are accompanied by an exhibition presenting the results of inter-disciplinary research carried out by Natalia Romik and Aleksandra Janus, together with a team of anthropologists, historians, archaeologists and city explorers", according to the curator's introduction.
The Exhibition at TRAFO Trafostacji Sztuki in Szczecin
Natalia Romik, artistically modifying the models of hiding places which, by definition, must be invisible to the unauthorised eye, takes on a visibility game as an important property of their architectural form. The tragic history of the Holocaust is the starting point for a universal reflection on the methods of survival in an existential threat, as well as their bodily, social and architectural dimensions. The installation is a tribute to the daily hardship of those in hiding, their creativity, solidarity and their will to live, often overlooked in the traditions of mainly commemorating heroes and leaders.
The exhibition "Hiding Places – Survival Architecture" problematises the subject of commemorating invisible architecture which, despite its invisibility, is an important witness to history. At the same time, the models of hiding places connotes a place of human isolation. They can also be read from a broader existential perspective, e.g., the tragedy of refugees and sheltering them during migration or persecution in countries threatening military conflicts.
The Exhibition "Hiding Places – The Architecture of Survival":

TRAFO Trafostacja Sztuki, Szczecin: 5th August to 6th November 2022
The exhibition reflects the fundamental problems of architecture and social co-existence, such as the relationship between form and function, and the design and use of space. Hiding places were often created ad hoc, due to the need of the moment and in unsuitable places. They are a testament to the architectural creativity of their users, who had to safeguard their basic life-support needs – sometimes for many years – with minimal resources, without the possibility of drastically chaing the available space. Attics, cellars, caves, trees or even tombs had a completely new function, the condition of which was to maintain the appearance their current form – to ensure effective protection, the attic had to look like an ordinary attic and a tree had to look like an ordinary tree.
The exhibition is also a summary of the resource process carried out using an inter-disciplinary repository, which includes architectural and artistic techniques, archival research or social scientific methods. The project is part of a broader trend of reflection upon the cognitive potential of architecture and art, using it to reflect upon a community created in an emergency – be it politicial, economic or climactic.
The official opening will take place on 5th August 2022 at TRAFO Trafostacja Sztuki in Szczecin. The curators' tour, led by Natalia Romik, Aleksandra Janus oraz Stanisław Ruksza and Kuba Szreder, will take place on 5th August (Friday) at 5:00pm.
The section of the Polish Righteous website about Jewish hiding places during the Holocaust (1939–1945)
"My research work covered hiding places in the 'Józef' oak tree in Wiśniowa in the Podkarpacie region, in burial places in the Jewish cemetery on ul. Okopowa in Warsaw, under the floor of a private house in Żółkiew, part of the city sewage system in Lwów and the inside of the Vertreba and Ozerna caves in Ukraine, a section of a cellarin Siemianowice Śląskie or a wardrobe in Hutay Zaborowsk", wrote Dr. Natalia Romik for the Polish Righteous portal.
The topic of hiding places, presented in Natalia Romik's exhibition, is also widely discussed on the Polish Righteous portal. In October 2021, marking the 80th anniversary of the issuing of the first ordinance in occupied Poland – where Nazi Germany, under penalty of death, forbadeJjews from leaving ghettos and Poles from providing them with any help. We prepared a new section in which we present this context of the Holcaust – we discuss, in detail and in many aspects, the experience of Jews, in hiding, during the German occupation (1939–1945).
In studies by Holocaust scholars and researchers, including Barbara Engelking and Justyna Kowalska-Leder, we present the types and characteristics of hiding places. We compare the conditions of hiding in cities and in the provinces. We present individual stories and related artefacts from POLIN Museum's collection. We write about everyday Jewish life in hiding. We present the specificity of hiding in cemeteries and hiding places in Poland which have survived to this day.
In this section, we have also published an article by Dr Natalia Romik about her research. The results of which are presented in her exhibition".
---
---
* Dr Natalia Romik – researcher, designer and artist. She received her doctorate form the Bartlett School of Architecture UCL for her work (Post)-Jewish Non-Memory Architecture in Old Shtetls. He academic and artistic activity relates to architecture and memory. These topics were taken up, among others, in projects "Nomadic Archives of the Shtetl" and "The Open Anti-Fascist Studio". She works together with the POLIN Museum of the History of Polish Jews – she was a design consultant for the Core Exhibition (2014) and curator (together with Justyna Koszarska-Szulc) of the temporary exhibition "Strangers at Home – About March 1968" (2018). She belongs to the SENNA Collective, with which she has, among other projects, created the permanent exhibition of the Górnyśląsk House of Remembrance in Gliwice and the "Beit Almin – House of Eternity" in Warsaw. In 2022, she was awarded the Dan David Prize – presented by the Tel Aviv University and the Dan David Foundation for breakthrough scientific, technological, cultural and social achievements of importance to the modern world.
---
The ehibition "Hiding Places – the Architecture of Survival"
Organiser: Zachęta – National Gallery of Art
Co-organiser: TRAFO Art Gallery, Szczecin
Curators: Stanisław Ruksza, Kuba Szreder
Academic consultant: Aleksandra Janus
Creators: Michał Kubiak and Anna Muszyńska (Zachęta), Andrzej Witczak (TRAFO Trafostacja Sztuki)
Together with: Julia Leopold and Aleksandra Zientecka (Zachęta), Taras Nazaruk and Maryana Mazurak (Centre for Urban History of East-Central Europe we Lwowie)
Graphics: Piotr Jakoweńko (SENNA Collective)
Exhibition architecture: Sebastian Kucharuk (SENNA Collective)
Sculptural modelling and forms: Agnieszka Szreder, Rafał Żwirek, Oleksii Konoshenko
Sculptural form silver-plating: Pracownia Konserwacji Zabytków — Piotr Pelc
Preparationof scans and 3D models: ArchiTube
Documentary film director: Peter Prestel
Funding support – exhibition: Taube Foundation for Jewish Life & Culture
Funding support – public program: The Rozen Family Foundation
Funding support – documentary section: Gerda Henkel Stiftung
Funding support – research project in Ukraine: Polish Ministry of Culture and National Heritage
Funding support – reseach of Jewish cemetery on ul. Okopowa in Warsaw: German Embassy in Warsaw
Funding support – accompanying academic conference: Global Education Outreach Program (GEOP) – POLIN Museum of the History of Polish Jews
Funding support – public program: Austrian Cultural Forumy
The exhibition is a summary of Natalia Romik's research project, supported by Gerda Henkel Stiftung and The Foundation for the Memory of the Shoah.