A Ceremony Honouring Righteous in Łódź
Seventy five years ago, the Germans liquidated the Łódż Ghetto (Litzmannstadt Ghetto), after Warsaw, the second largest ghetto in occupied Poland and the only one which existed almost until the end of German occupation. The more than 200,000 Łódż Jews, who mostly died in the Nazi German concentration and extermination camps in Auschwitz-Birkenau or in Chełm-on-Ner, were commemorated on 29th August 2019 in Łódż, during ceremonies held in the Jewish Cemetery and at the Radegast Station. A ceremony honouring the Righteous Among the Nations was also held there.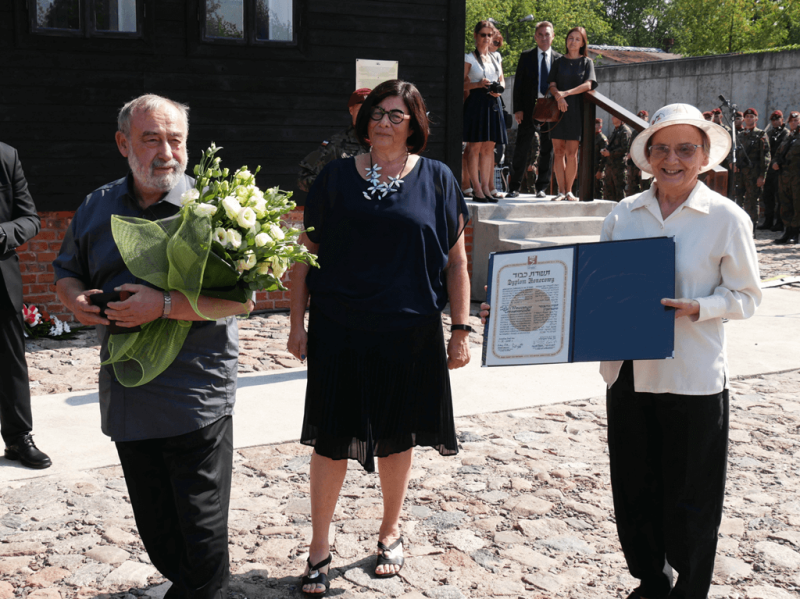 This tragic anniversary from the Radegast Station should generate a message of remembrance and warning, as well as one of solidarity, brotherhood and a readiness to hasten to help others. These are current issues in the contemporary world, in which hostility and aggression still occur. I believe that we will be able to respond appropriately to these challenges – both in words and in deeds – the President of the Republic of Poland.
During the ceremony, held at the Radegast Station, the title of Righteous Among the Nations was posthumously bestowed upon Wincenty and Zofia Tomaszewicz who, during the German occupation, extended help to Prof. Annia Margolis and her daughter Alina, later the wife of Marek Edelman. Their medal and certificate was presented to the grandchildren, Lucjan and owi i Annie Szuster, by Israeli Ambassador to Poland Anna Azari.
During the War, they gave shelter to Annia Margolis and her daughter Alina – the famous Ali from the pre-War primer. By saving two people, the Tomaszewicz couple did more good than they thought. After the War, Alina became a paediatrician, who worked devotedly in hospitals in many countries affected by armed conflict. She saved hundreds, if not thousands of children – Anna Azari (source: PAP).
The last ceremony which coincided with the anniversary of the liquidation of the Litzmannstadt Ghetto took place in 2016.
---
---
---