17th Anniversary of the "Żegota" Monument Unveiling
Seventeen years have passed have passed since the unveiling, in Warsaw, of the monument commemorating the "Żegota", the Council for Aiding Jews. The monument was unveiled, on 27th September 1995, by Władysław Bartoszewski, one that organisation's surviving members.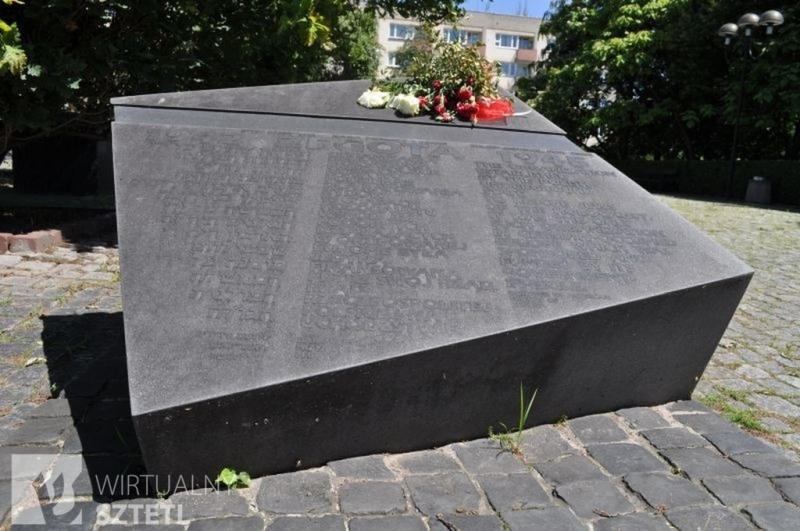 The monument is located in Anielewicza street in Warsaw, opposite the main entrance to the Museum of the History of Polish Jews. Shaped as an obelisk, it was designed by Hanna Szlamberg and Mark Moderau and was funded by the Polish community in America. It bears an inscription in Hebrew, Polish and English telling of the role played by "Żegota" in saving Jews from the Holocaust.
"Żegota" is the codename of the Tymczasowy Komitet Pomocy Żydom, and then the Rada Pomocy Żydom (RPŻ), an underground organisation aimed at helping Jews in a variety fo ways. The Council was established on 4th Dedember 1942 in Warsaw as an agency of the Delegatura Rządu na Kraj, namely, the Polish civilian underground. They supplied those hidden with funds, found them apartments and hiding places, supplied then with false documents, placed children into care with Polish children's homes or with Polish families.
A description of the monument and photographs can be found on the Virtual Shtetl website.