New stories in our virtual exhibition "The Right Address"
Where did Jews hide during the war? How many hideouts have been preserved until today? Perhaps you have been passing them by on a daily basis? Go for a walk through our virtual exhibition and discover the "right addresses" and the fate of their residents.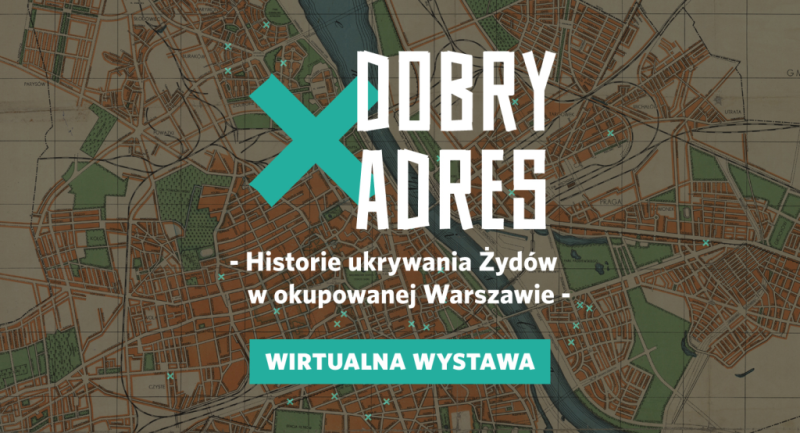 Over twenty new items have been added to our collection of stories about Jews in hiding in Warsaw. On plans of the city, from 1941 and the present, exhibition visitors can now find almost seventy addesses, still in existence today, where Jews found shelter during the occupation.
According to historians' estimates, there were up to 27,000 Jews in hiding in Warsaw throughout the war years. We will never know the precise number and exactly where all of them survived.
Through our exhibition, prepared and developed together with Warsaw blog "Pańska Skórka", we indicate the hiding-places, preserved to this day, and present the shared fate of those in hiding, as well as those who risked their lives helping them.
Seemingly ordinary buildings, no different to any others in the city, hide dramatic stories. They bear witness to exceptional people. Once places of struggle for survival, today they stand amidst the rhythm of everyday life.
Among others, our exhibition displays pianist Władysław Szpilman's five hiding places and the "Krysia" bunker on Grójecka Street in which Emanuel Ringelblum hid. We tell of the activities of Mieczysław Fogg at Koszykowa Street, of the Żabiński couple at the Warsaw ZOO and of the owner of Fotoplastikon on Jerozolimskie Avenue.
The exhibition was produced as part of "The Polish Righteous – Recalling Forgotten History" project of POLIN Museum of the History of Polish Jews. The project is dedicated to those Poles who rescued Jews during the Holocaust.
The Exhibition was honoured in the 2015 Sybilla Museum Event of the Year Competition.
---
Hiding Jews in occupied Warsaw
---