Meet the Righteous at the 14th Warsaw Singer Festival
The 14th Warsaw Singer Jewish Cultural Festival will take place from 26th August to 3rd September 2017. The community is invited to events organised by POLIN Museum of the History of Polish Jews and meeting with Righteous Among the Nations Anna Stupnicka-Bando, Józef Walaszczyk and Irena Senderska-Rzońca.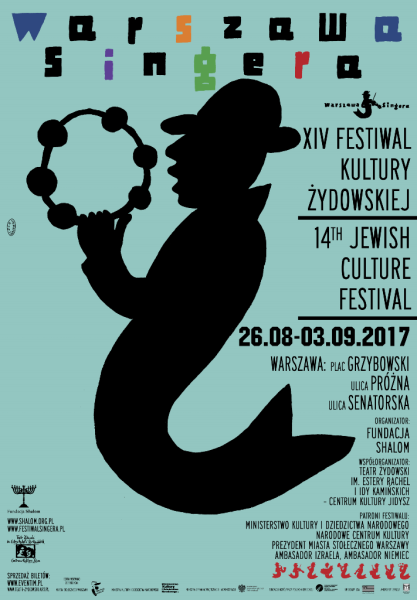 The 14th Warsaw Singer Festival of Jewish Culture, organised by the Shalom Foundation, is set to open on 26th August 2017. Like each year, the Festival's main events will be held in Plac Grzybowski and on Ulica Próżna. Other events will be hosted by the Austrian Cultural Forum, the Yiddish Culture Centre, the Iluzjon CInema, POLIN Museum of the HIstory of Polish Jews, the Kwadrat Theatre, the Nowy Theatre, the Stanisław Ignacy Witkiewicz Theatre Studio and the Estera Rachel and Ida Kamińska Jewish Theatre. Many events, within this year's program, are also planned for Biłgoraj, Radzymin, Leoncin and Góra Kalwaria.
As part of this year's Festival, the POLIN Museum of the History of Polish Jews invites everyone to the following events:
"Discovering Muranów" neighbourhood picnic – 26th August at 12 noon at Willy Brandt Square
"Night-time Stalking" family workshop – August 27th at 6:00 pm
a meeting with Ewa Herbst, author of the book Dokument Podróży – 28th August at 6:00 pm
"Preserves from the FInal Years of Fania Lewando" culinary workshop – 29th August at 6:00 pm at Menora InfoPunkt
a family picnic at Grzybowski Square– 2nd September at 12 noon at Menora InfoPunkt
"Let's Talk About Warsaw" walk following the traces of languages in pre-War Warsaw – 3rd September at 11:00, meet at the Jan Kiliński monument.
View the complete Festival Program.
In particular, all are invited to a meeting with the Board of the Polish Association of the Righteous Among the Nation, which will take place on 30th August at 7:00 pm at the Austrian Culture Forum at 7/3 Próżna Street. Meet the President Anna Stupnicka-Bando, the Vice-President Józef Walaszczyk and Secretary Irena Senderska-Rzońca who will be in conversation with Jan Ordyński.
The Polish Association of the Righteous Among the Nations consists of Polish citizens honoured with the title of Righteous Among the Nations. and their descendants. The Association's aim is to remember the Righteous, to promote an awareness of the German occupation of Poland, of the Holocaust and of the saving of Jews. They also combat antisemitism and xenophobia.
---
---