Holocaust Exhibition at the European Commission Headquarters in Brussels
An exhibition devoted to stories of Holocaust survivors and rescuers from nine European countries opens in Brussels on the eve of the International Holocaust Remembrance Day. The exhibition, entitled "Between Life and Death" was prepared by European Network Remembrance and Solidarity, POLIN Museum of the History of Polish Jews and Silent Heroes Memorial Center.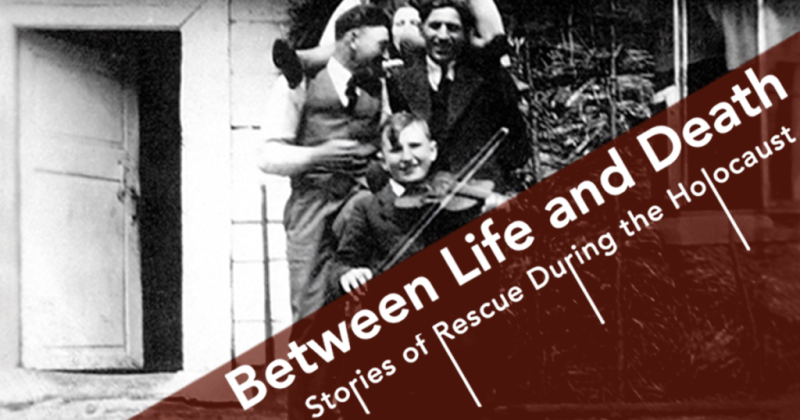 The Jewish genocide in the war-torn Europe claimed millions of lives. In the face of the tragic fate of Jews, local populations of the German-occupied countries and some ordinary Germans were faced a dilemma which they probably had never imagined they would have to face: How do you react to such a mass atrocity? Attitudes differed widely, but only few offered help to people seeking to survive. For both groups that was a risky undertaking which could even cost them their life.
The exhibition "Between Life and Death. Stories of Rescue During the Holocaust" presents accounts of rescue from nine European countries. By outlining stories of survivors, along with those of rescuers, it seeks to give a voice to both of these groups. We draw attention to their endeavours, their courage and their will to live, as well as the wartime circumstances with which they had to deal. Their fates are shown against a broader historical background, giving a better understanding of the local possibilities for Jews to survive and for helpers to provide aid.
The exhibition will be launched on 24th January by Dimitris Avramopoulos, Member of the European Commission for Migration, Home Affairs and Citizenship and representatives of the ENRS, the POLIN Museum and the Silent Heroes Memorial Center. Guests of honour include witnesses to history – Holocaust survivors Elżbieta Ficowska, Jehoshua Shochot, and Elisabeth Drillich.
Venue: European Commission, Charlemagne building, Rue de la Loi 170, Brussels.
Dates: 24 January to 6 March 2018.
Following its presentation in Brussels, the exhibition will go on display in other European cities.
Authors of the exhibition: Dr. Martyna Grądzka-Rejak (ENRS), Klara Jackl (POLIN Museum of the History of Polish Jews) in cooperation with Marta Ansilewska-Lehnstaedt (Silent Heroes Memorial Center)
Academic Consultants: Dr. Aleksandra Namysło, Prof. Jan Rydel (ENRS), Dr. Piotr Trojański (ENRS), Prof. Johannes Tuchel (Silent Heroes Memorial Center)
Organisers: European Network Remembrance and Solidarity, POLIN Museum of the History of Polish Jews, Silent Heroes Memorial Center in the German Resistance Memorial Center Foundation
Funding: Ministry of Culture and National Heritage of Poland, Federal Government Commissioner for Culture and the Media (BKM)
Partners: Memorial of Chambon-sur-Lignon, Mémorial de la Shoah, The Danish Jewish Museum, Museum "Jewish Memory and Holocaust in Ukraine", Castrum Peregrini, Museum of the Second World War, NIOD, the Institute for War, Holocaust and Genocide Studies, Vilna Gaon State Jewish Museum