THEY RISKED THEIR LIVES - Poles Who Saved Jews During the Holocaust
This exhibition presents stories of aid extended by Poles to Jews during World War II. It has been prepared by the POLIN Museum of the History of Polish Jews in partnership with the Polish Ministry of Foreign Affairs.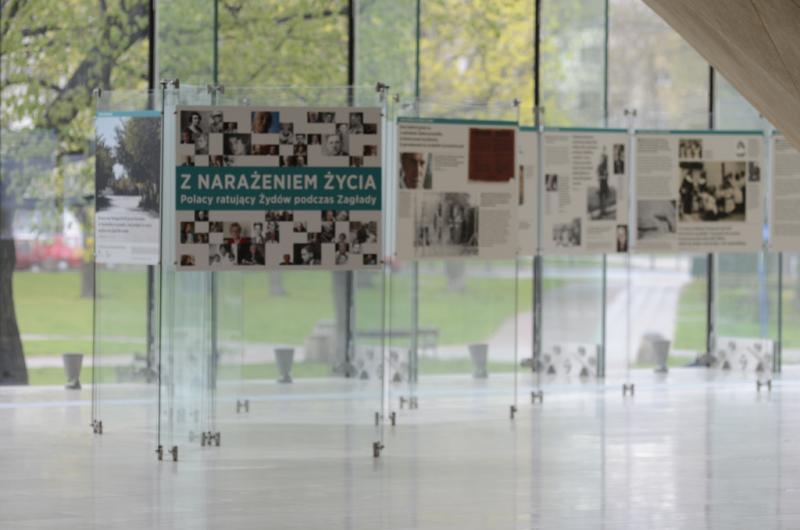 The exhibition consists of eighteen panels showing how Poles risked their lives, and the lives of their families, to help persecuted Jews. As opposed to other western European countries occupied by the Germans, in Poland, helping Jews carried the death penalty.
After the War, many of these rescuers were honoured by the State of Israel with the title of Righteous Among the Nations. The exhibition tells of the fate of the rescuers and those rescued, presented within the context of occupied Poland, explaining the circumstances and scale of the aid provided and also what motivated the Righteous to do what they did.
The exhibition has been based upon an exceptional collection of testimonies by the RIghteous and those rescued, testimonies which have been collected as part of the Museum's project "The Polish Righteous - Restoring Memory".
So far, the exhibition has been translated into five languages - English, German, Russian, Spanish and Lithuanian. Its first showing was in December 2013 at the Paris headquarters of UNESCO. It has since been on display in Madrid, Moscow, Vilnius,Tallinn, Dusseldorf, Essen, Warsaw, Szczecin and Toruń. It will soon also be seen in Havana Cuba and Melbourne Australia.