We are seeking for Sabina, a girl who was hidden by Agata Janicka form Chodakówek
Do you know the couple from this photo? Mariusz Jabłoński is seeking for Sabina, portrayed on the photo. She was hidden during the Nazi occupation of Poland by his great-grandmother Agata Janicka in the city of Chodakówek (near Żelazowa Wola).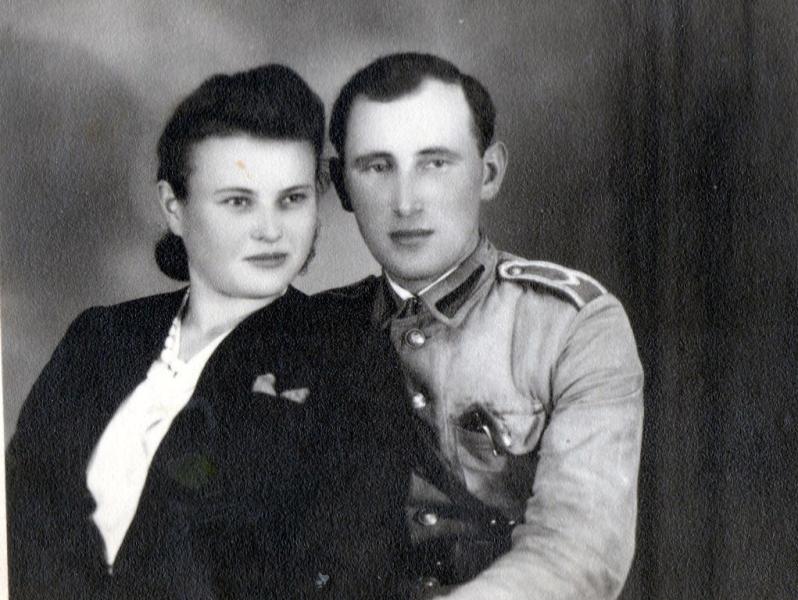 Contact us, if you know something about Sabina.

Read a letter sent by Mr. Mariusz Jabłoński:

"I would like to share with you a short tale that I have learned from my family. During the war, in the village of Chodakówek (near Sochaczew), not far from Warsawand close to Żelazowa Wola, my great-grandmother, Agata Janicka, owned a house and a sawmill, where she was hiding a teenage Jewish girl.

My great-grandmother produced "Aryan" papers for her, and the girl stayed with her until the liberation, and was always treated like a family member. She probably came from Warsaw. She called my great-grandmother "aunt" and as far as I know her name was Sabina (I don't know whether this was her real name).

After the liberation she left with an officer or an NCO of the Polish army. She sent my great-grandma a photo, right after the war, with best wishes; I have kept the photo as a memento of those times. I'm deeply interested in history, and this includes the stories of people participating in these past events. I am very curious as to the later fate of that rescued woman.

Mariusz Jabłoński