A testimony by Katarzyna Danuta Andrejew
Katarzyna Danuta Andrejew, the president of the Łódź chapter of the Association of the Children of the Holocaust, talks about her family and her wartime story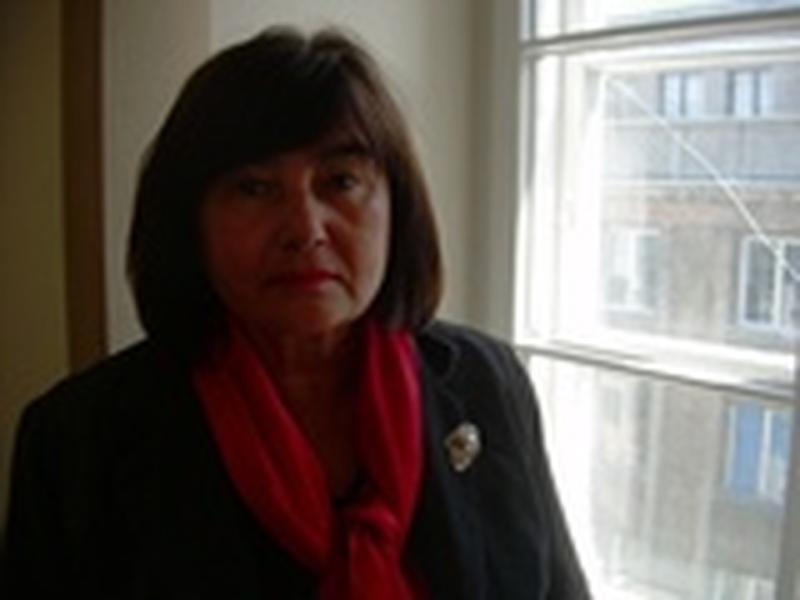 My daddy would always say that when I'd be fourteen, he'd tell me something really important. Naturally, I was very curious, and I even figured he would tell me where children come from – and I had already known that.
He sat me down and he told me. It was a terrible experience.
I have always felt a lot of emotions, family-wise. I've always regretted I had no aunts, uncles, no grandparents. When it turned out they had been there, it became very important for me to know if my grandmother had ever seen me.
I don't know how they died.
I'm learning about my family. I'm tracing back their steps, searching. There are many things that I did not know, that I still don't know and will never know, now that there is no one to learn them from.

My mom, Natalia Gutowicz, came from Pruszków. Before the war she lived at ul. Prusa 26 with her parents, Rubin and Ruchla (nee Kamerfuks) Gutowicz, and her three younger sisters: Maria, Felicja, and Anna. The house is still there. It's a two-story, Art Nouveau townhouse.
My great-grandfather, Mordechaj Gutowicz*, administrator at the Potulicki estate, was an affluent man, one of the founders of the synagogue and Jewish cemetery in Pruszków. That was one of the very few pieces of information my mom told me about her family. Konigstein, Kamerfuks, Gutowicz; I have a copy of a 1929 phone book with their names in it. I also found their graves, despite my mom's resistance. After the war she did not want to relive those memories, she didn't want me to talk about it. She only visited Pruszków once; she went there in 1972 to meet one of the friends who helped us during the war. I only realized certain things when I got older; certain behaviors, illnesses, nervousness.
[Mom] died in June 1981.
My dad, Lucjan Sieczko, was working in the Engine, Lathe, and Tool Factory (Wytwórnia Silników, Obrabiarek i Narzędzi) in Pruszków from 1936 or 1939 until 1944; the company was owned by Stowarzyszenie Mechaników Polskich z Ameryki SA with registered office in Warsaw (during the war Stowarzyszenie was taken over by the Germans, but it continued its operations, under the same name, I believe). He was a cyclist, Warsaw cycling champion in 1929, a glider pilot; he used to fly, among others, with Jagoda Piłsudska, Józef Piłsudski's daughter. He was a strikingly handsome man. He really adored mom, even though he wasn't her first choice. He was aware of what was coming and wanted to protect mom, so he proposed. They got married on November 15th, 1939 in Żbików.
Dad's family was living in Mińsk Mazowiecki. Several years ago I learned from a cousin of mine that they did not condone his marriage to a Jewish girl. They did not agree to shelter us.
After the war dad was working at the Stomil tire factory in Poznań. He died in August 1979.
In 1940 mom and her family were placed in the Pruszków ghetto. Dad moved in with them, and together they were taken to the Warsaw ghetto. He stayed there until the ghetto was closed off, then he got out and searched for a hiding place.
I was born in March 1942. I was three months old when my dad paid off a policeman and brought me, mom, and her younger sister Anna out of the ghetto. Two days later Anna came back. She believed her place was with her parents.

The wandering began. We were separated for most of that time.
After leaving the ghetto, I spent some time in the German district. Mom's friend, Zofia Postrychowa, married Rudolf Rytman, a Wermacht officer, and they were living there. They took me in. Rudolf was supposedly very proud and taking me for strolls in the pram. I think he knew who I was. Then he and Zofia separated. He volunteered to go to the Eastern Front and lost his legs in Stalingrad. Mom met with him in Cologne in 1967.

I was also hidden by my parents' friends from before the war: Jadwiga Rzymska, Tadeusz Potajało. My beloved uncle Tadeusz was the Poland motorcycling champion. After the war he ran a car parts shop on ul. Polna, a spot well-known to all of Warsaw's cab drivers. He was the last one to see my grandfather Rubin Gutowicz. He was walking in a column going back from work to the ghetto.
And so, going from place to place, I went from Warsaw to my grandparents in Mińsk Mazowiecki. My dad showed me to my grandmother, but then he and Tadeusz quickly took me to the Lublin voivodeship, to Wola Chomejowa. And there, in March 1943 Maria Piłatówna, one of my caretakers, who was friends with Father Czesław Mutażuk from Ulan, arranged a christening. The christening certificate is for "the daughter of Lucjan Sieczko and Natalia nee Domańska, who died in childbirth." My godfather was Tadeusz Potajało.
The Sposobs were the people who took me in there. I supposedly called Mrs. Sposob "grandma Adamowa." I never met them after the war, but my parents were in touch with them. And I remember I had a cap made of angora wool that my step-grandma Adamowa gave me.
Mom went from the ghetto to stay with her friend Marysia. I don't know her last name. I think she lived on ul. Sienna. [Mom] ran from there after the janitor tried to blackmail her. She had an id in the name "Natalia Domańska." I don't know whether this was somehow related to obtaining them, but my dad used to tell me how he and a friend snuck into some governmental office where they were ripping out pages from books where mom's real details were.
She spent the most time hiding in Piastów, with my dad's aunt, Wiktoria Gajewska. She had no children, she was the only members of dad's family who accepted my parents' marriage. Her husband, a dentist, died in Katyń. She was quite well-off and she helped to provide for me and mom.
Dad was working. I'm sure he was also doing a bit of trade. He was selling off jewellery. Mom was only left with a small diamond ring; I have it now. Dad was coming to where I was by bike – and it was a hundred kilometers from Warsaw. He looked after mom. He'd carry food, and leaflets, too. He had ties to some underground resistance organization, I don't really know which one.
I never considered what he did to be something heroic. I thought it was natural; he was a husband, a father… It was only recently, during one of the programs with schoolchildren, that the kids there pointed out to me that he was a hero. He knew the risks. I know he rescued several more people. I only know one of those names: Józef Kuropatwa; after the war he was the ambassador of Uruguay in Paris.
I think it was in 1943 when dad and his friend Jan Leoniak destroyed the inventory register at their workplace. It was Holy Saturday; they waited for everybody to leave. After that, dad went to the Lublin area – the Gestapo was after him.
Our family met up after the liberation of Warsaw, in Mińsk Mazowiecki, at dad's family's. Since we weren't really welcome there, in May 1945 my parents left for Poznań and settled there.