The Story of the Pieniak Family
We publish, here, a story sent to the POLIN Museum of the History of Polish Jews by Edward Pieniak. It concerns the help his family extended to Estera Borensztejn in Sobolewo (Mazowieckie Province). His memories are supplemented with fragments of a testimony submitted by the Survivor in 1947 to the Central Jewish Historical Commission. Estera Borensztejn was found by Edward Pieniak in 2015, after over forty years of searching.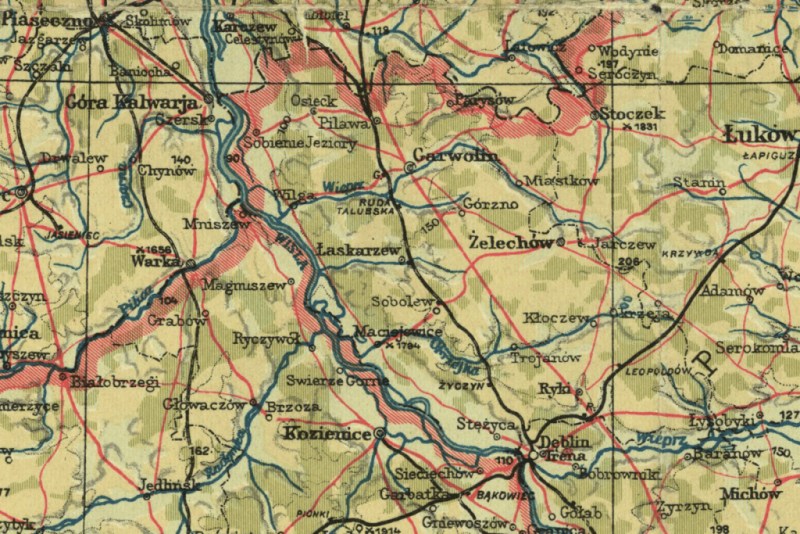 During World War II, my parents, Bolesław and Genowefa, lived in Sobolewo (Mazowieckie Province). In 1940, their first son, Zygmunt, came into the world. A year later, I, Edward, was born. In accordance with the will of my grandfather Stanisław, who died in 1940, the farm was divided between his two sons – my father Bolesław and my uncle Jan who, in 1944, established his own family. We all lived together under the one roof - the buildings were shared, while the fields were divided.
In 1943, my parents, grandmother and uncle took care of Estera Borensztejn (born 15th December 1932 in Sobolewo), the daughter of Eli and Toba (nee Brawerman). A year earlier, Estera, together with her mother and two brothers (her father was already dead) ended up in the local ghetto in Sobolewo. In the autumn, the Germans began the ghetto's liquidation, with the Jews being sent to the Treblinka extermination camp. The Borensztejns found themselves in one of those transports.
The Borensztejns' Escape From the Transport to Treblinka
As Estera recalled in 1947:
They also pushed us into the wagons. It was crowded. Dark. You could neither stand nor sit. My little brother choked until he suffocated. I also thought that I wouldn't survive. It was so stuffy. When the train moved off, everyone fell over. Those who were near the door fell on those who stood at the back. It was then a little easier for me, because I ended up on top. There were more and more corpses in the wagon and so there was more room. I asked mummy about jumping off the train, because it would have been better to kill ourselves than to continue suffering - otherwise it was neither life nor death. Mummy said that I should jump out on my own, but I didn't want to. I begged her to jump first. She jumped and I saw, through the window, that she stood up and ran. Others pushed me through the window. I clung to the hooks. I was afraid to jump. They pulled my hands away and I fell into the snow. [The Germans] shot at me, but I was okay. However, I couldn't find mummy and I didn't know which direction to go1.
Estera and Toba escaped around Sokołów Podlaski. They separated and never met up again. Estera moved around from village to village, asking for help - water, food and shelter. As she wrote, "I was so thirsty that I ate snow".
In the woods and barns, she met many Jews. Hiding from German raids, they had formed themselves into groups. At the urging of a Polish farmer, where she had found shelter for a short time, she decided to seek help on her own:
No one would let me in for the night […] To stay overnight, it was necessary to go to the sołtys [village administrator], who gave a card to one of the farmers. […] One farmer kept asking so many questions that he realised that I am a Jew. He went and complained to the sołtys who had sent me there for the night. The sołtys said to take me to the police station. It was night - cold and windy. The peasant harnessed a horse, sat me in front of him so that I wouldn't run away and took me to the police station. I begged. I cried. I realised well that I was going to my death. In the end, he agreed not to tell anyone who I was. The police station was already closed, so he took me to the policeman's home. There, they questioned me, but I wouldn't admit anything. They ordered me to say a prayer, but I didn't know how. I said that no one had taught an orphan any prayer. […] The following day, many Jews were caught and brought to the police station […] Later, they questioned me and, finally, discovered that I am a Jew. However, they let me go. They even taught me how to greet people, that when I go into someone's hut, not to say "Good day" but to say "Jesus Christ be Praised". I left and felt like I was born again.
Estera, in accordance with her mother's earlier recommendation, went to the village of Osiny (Łuków District), around 40 kms from where she had escaped He grandparents, the Brawermans, had lived there before the War. The villagers helped her. "They agreed that they would take turns in taking me into their homes, so that everyone would be guilty and no one would give me up. They made a kind of pact".The girl remained there until the spring.
She then went to another place where Józef Goławski took her in. Due to threats from a neighbour who had been resettled from the Poznań Province, Estera moved in with Goławski's daughter. There, also, "the secret spread throughout the village" and, at the instigation of the local parish priest, her hosts told her to leave.
The girl then decided to return to Sobolewo, 50 km away - her family home town. She did not know that the Germans had finally liquidated the ghetto on 10th January 1943. Along the way, she stopped in at friends in the village of Kurzelaty - "They wanted to help me, but they were afraid of their son-in-law, because he had already killed several Jews".
She found refuge on the farm of childless Wawrzyniec Majek in the village of Zadybie Stare, which was 500 metres away from our home. Knowing that there were children in the Pieniak family, Majek suggested that my mother take in Estera. He considered that, this way, it would be easier to save her. The family agreed.
Help Given to Estera Borensztejn (Teresa Wiśniewska)
My parents treated Estera, known to us as "Teresa Wiśniewska", as their own daughter. From the outset, they knew she was a Jew, whose life was threatened, and that her Polish first name and surname was just camouflage [In her 1947 report, Estera Borensztejn wrote that Genowefa Pieniak "didn't know that I am a Jew" – ed.].
She helped us with farm activities in the garden and in the field. In the forest, she gathered mushrooms and berries. She looked after me and my brother - we considered her as our sister. She also took part in the harvests, in digging up potatoes and in grazing the cows. She did whatever she could, the same as other village children were doing.
She became friendly with the neighbours - the Pyr, Wojtasz, Wojd, Głodek and other families. She was taught to memorise Christian prayers, as well as church and secular songs. She went with us to church. Many times, we would run away from the Germans with her, into the forest. At that time, Father Kosmolski [probably pr. Stefan Kosmulski from Kłoczew – ed.] also gave her refuge.
When, in 1944, the Red Army entered the village, one of the units was stationed on our farm. Estera peeled potatoes for them. Soon after, she left our home:
After, liberation, I didn't want to return to the Jews. I had already begun to think of myself as a Pole - I had pretended to be one for so long. […] At a meeting of the council in Kłoczewo, the head of the council [wójt] said that there was an orphan in the village who should be cared for. One childless professor wanted to take me as his own daughter, but the priest took me and I stayed with him for two weeks. Once, I was in the church and a man began talking to me. He told me that, in Ryki, there was a woman restaurant owner who would like to take a child as her own. He kept trying to persuade until I went to her - without the priest's knowledge. I stayed with her only a short time, as she began treating me like a servant.
In 1946.Teresa left Sobolew with a man claiming to be her uncle. A year later, he handed the girl over to an orphanage in Bytom, where there were other Jewish children who had survived the Holocaust. She soon fled from there - through Slovakia and Italy, she got to Israel, where she settled permanently.
Searching for a Holocaust Survivor
We lost track of Teresa in 1946. Over many years, mum repeated, "Maybe Tereska doesn't want to recall her wartime memories?". I tried to find her. I contacted many people and institutions around the world. They tried to help me. That correspondence went on for many years. Magazines in Poland, Israel and in the United States published articles about our common history. Witnesses to those events were gradually becoming fewer. Our former neighbour, Józefa Żmuda (nee Pyra - died in 2017 aged 96), often asked me, "Where is your Tereska and how is she doing?".
The breakthrough came on 15th April 2015, when I received a copy of Teresa's 1947 testimony to look at. Through a journalist, I was soon able to make contact with her. She recognised herself in a photo taken at my uncle's wedding on 11th July 1944. That photo had accompanied me during my search for over forty years. She then agreed that we should meet. That meeting took place on 21st October 2016 on Mount Carmel in Haifa, Israel. We cried with joy that we were able to talk after so many years. She was loved by us - she was our "Tereska".
Postscriptum
On 21 March 2017, at the request of Estera Mitrani née Borensztajn, Józef and Marcjanna Goławski were honoured by the Yad Vashem Institute in Jerusalem with the title of Righteous Among the Nations.
---
1Citations: the archive of the Jewish Historical Institute, Collection of Jewish Holocaust Survivor Testimonies, Ref. 301/2989. Spelling and punctuation as been modernised, with square brackets marking omissions and additions to the source text.