The story of my grandmother - Jadwiga Wydrychowska
I'm looking for my mother's real name, who was Jewish and a war orphan. After having read your stories about the Righteous, I believe that my foster grandmother, JADWIGA WEDRYCHOWSKA [who was hiding my mother during the war] should also be included in the group of the Righteous.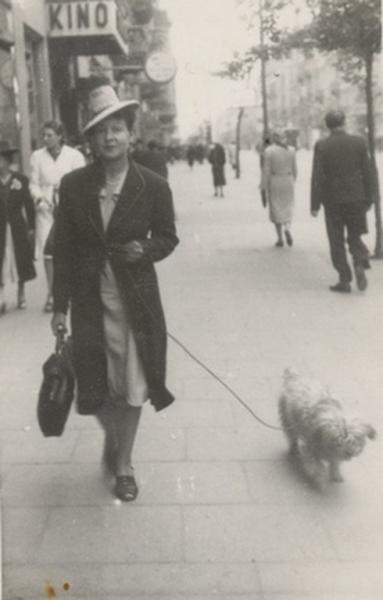 Only once in my life did I have a chance to meet her personally. I was probably 8 years old. I loved her because she was a warm person, nice, elegant and beautiful. But above all, I loved her because I was grateful for saving my mother - Sabina.
She described the circumstances and story of the hiding in a letter to my mum:

"Dearest Sabuś!
You've asked me in one of your letters about the circumstances of your and your brothers arrival in Warsaw.
Well, a trade woman brought three children to Warsaw in 1943, I do not know whether the children were from Minsk Mazowiecki or from its neighborhood. The identity cards the children had was a collective statement issued by a priest, but I do not remember the name of the priest's parisht. It was said that he had baptized the following children:

Kalbarczyk Sabina ( you had to be 6 years old then)
Kalbarczyk Stanisław '(I think he was 5)
(I think he was a year old)
This christening certificate I gave to a nun, who took you. You were placed in the Roman Catholic Charity House Res Miser – the old people home. The manager of this place asked me to take care of you. So, a catholic nun (Szarytka) brought you to me, just like that, you had only one dress. She told me that all the three children were given to a peasant to survive in hiding. Certainly the man received a lot of money for taking you, but the her apparently was a bad man and all of you suffered from lice and rats there. The trade woman felt pity for you and filled with compassion brought you to Warsaw. According to the nun the older boy found a place in an orphanage and the youngest child went to the Father's Boduen orphanage as well. I think all the information the nun got directly from the trade woman. Your parents wanted to save you and therefore they gave you away under the peasant's care. They probably died in a camp or were shot.
Do you remember, when we went together a few times to the trade woman's flat? She lived in Piwna Street, in the Old Town. But she never was home. I wrote her a few letters, saying that she shouldn't be afraid of me, because I didn't want to give you back but I just wanted to know where the boys were, because I wanted to give you a family. Warsaw Uprising turned the Old Town into a heap of rubble and so the trade woman vanished from my sight. Sabciuniu, the whole thing was very fishy - it was a terrible time of Gestapo's terror and everything could have cost our lives.
Jadwiga Wedrychowska "

This letter is very dear and painful for me. Jadwiga, not only was she a foster parent to my mother, but she also was my "grandmother from Warsaw". Time and geography separated us. But we were corresponding until my grandmother's death. I actually have no mementoes of her except for a few letters and photos. I don't even know her date of birth let alone other personal details. I know that during the war she lived somewhere in Praga district in Warsaw. She was married but got divorced. I think the name Wedrychowska was her husband's surname, but I am not one hundred percent sure. I never asked her about these things. I naively thought that my grandmother would live forever ... and now it is too late ....

Anna Zielinska - Mohit