The "Rascal" Jadwiga
It was probably over the past two years that Jadwiga, in her characteristic manner, would say that her health was not as it once was and would invite me to her funeral. I took these jokes calmly, understanding that, in a way, this was the order of things.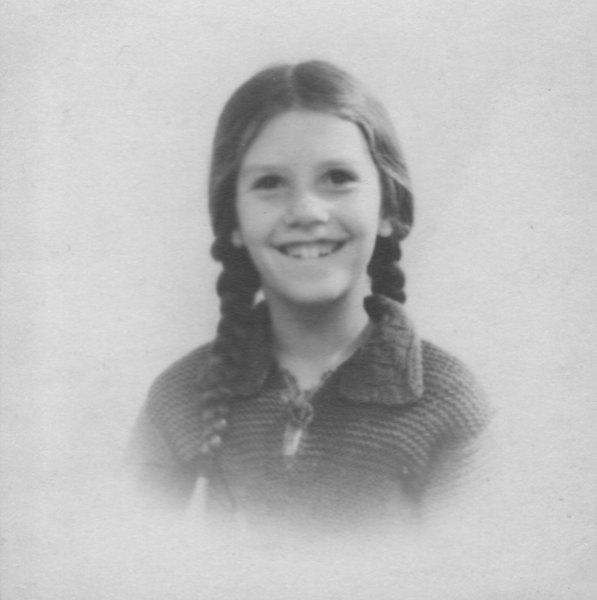 For quite some time, she had mentioned that she was getting weaker, that her body would, more often, being saying "No". Going out shopping had become an effort for her, as was simply going from her room to the kitchen. She used a walker at home. That weakness didn't fit into Jadwiga's nature. In truth, she may have been an adult, but she was also still that eleven year old girl from the pre-War photographs – her hair in plaits, smiling, skating in winter somewhere near Plac WIlsona. The ribbons in hair would certainly have come from the factory of her grandfather Meir.
"Jadwiga the rascal!" was what another remarkable girl her and it was through Jadwiga that I met her - Kubusia Blidsztejn (after the War, she retained her "Aryan" name - Danuta Dąbrowska).
I remember our filming of "Ocaleni (The Rescued)". You meet both of them over a sixty year period. Their unceremonious manner has remained in my memory. When I heard about her passing, I thought, "the rascal Jadwiga has died".
Generally speaking, I consider that her passing is somehow in order. It sounds surreal, but I repeat – I accept her and know that what happened was meant to be.
We intended to visit her – with Karolina and Klara – to visit her, listen to her family anecdotes, eat some pate and drink some borscht. Of course, this never happened – one of us fell ill and another had some event pop up.
It's a great pity that the visit never happened – a great pity.
Even more, I have the feeling that I've lost something.
My life has taken on an unhealthy acceleration. I don't have time for the most important, fundamental things. Over the past year, I intended to ring Jadwiga several times. I didn't manage to do that either. Klara was our messenger – to convey our regards. Sometimes it was easier to be part of a delegation flying to Oslo, than it was to ring her. Such Scandinavian travels would have appealed to her – she loved to fly.
It was a great privilege to know her, although it was not easy. She was hugely demanding of us – while editing her texts and when putting together the film about her. It is hard to describe precisely what it meant to converse with someone who had a history such as her's – born prior to World War II, surviving the War with a remarkable consciousness and, after a long time, returning to it to tell of her experiences.
I think that she took a certain delight, in her later years, in embracing the Jewish heritage of one side of her family. Her behaviour displayed a feeling of deep affirmation and pride in her origins. But she also hid a rebellion against everything Polish that was bad – rebellion against signs of xenophobia and antisemitism, the bragging of heroes and the directing of guilt towards others, above all Jews.
With the establishment of our Museum, she was able to conduct interviews for it, write articles about the Righteous Among the Nations and about the Survivors. It was possible for her to come here to the cinema and to debates. I see that it had a deep meaning for her and she graced us with her presence. It is good that the last witnesses to the Holocaust could have lived to see its opening and, through it, to realise their passions – that they could use it to tell their stories and for others to hear their stories.
My Israeli "mum" Yael claims that a renewable energy exists in the cosmos thanks to which life situations (e.g. conversations between people) happen all the time and there's nothing wrong with that. So there is a time in the space-time continuum in which we are sitting around a table discussing our film. And then there is the time when I am taking photos of you in front of the Museum building, the background of which is the "Żegota" oak tree (planted by Władysław Bartoszewski). And the time when I was filming you in the garden. It's spring and the tulips are blooming. And the time when you were working at the computer with violets on the window sill.
There were those good times and there were other, not so good, wartime moments which continue to last – those of the ghetto, of the frosty winter in Ostrówek, of the streets occupied by the Germans, of the Jews with fright in their eyes, of the forest near your family home into which had wandered escapees from the transports to Treblinka.
I'll remember all these images - until my own death.
And I'll try to ensure that others also know them and remember them.
Thank you for everything.