Łucja Koch talks to her grandmother, Dorota Chaber, about her classmate Janka Wałężanka
My grandmother, Debora Guter (everyone called her Dora, and after she married, she was Dorota Chaber), is 95. She comes from Tarnów, from a poor Jewish family. She spent the war in the USSR, where she fled with my grandfather. Their families, both quite large, were all killed in the Holocaust, with the exception of one of my grandmother's brothers.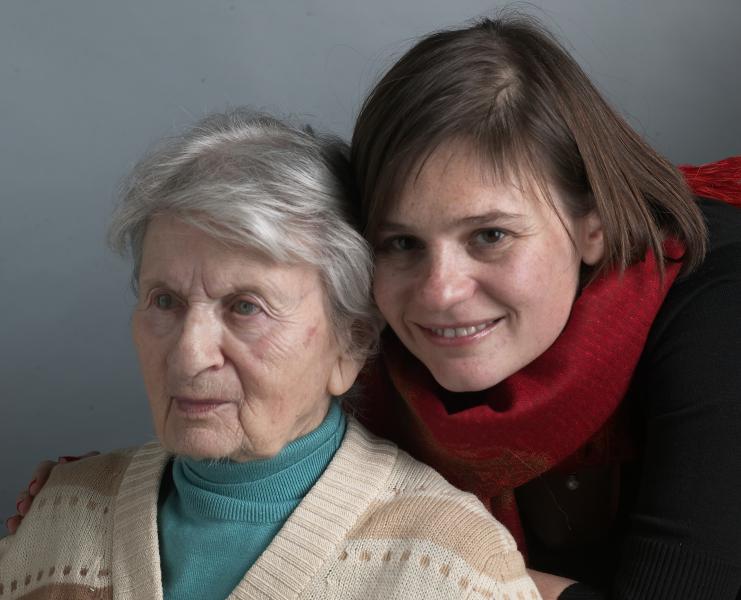 Recently, nearly every time I visit her, she tells me the story of her schoolmate, Janka Wałężanka (later Janina Filozof-Wałęga), who had saved a great number of Jewish children: "Tarnów was a Jewish town," grandma smiles, beginning her often-told story in the voice of an expert tutor. "Out of 30 girls in my class 5 were Catholic, and among those was Janka Wałężanka, the niece of Tarnów's bishop," she says with pride, and explains that the majority of Catholic girls attended the middle school ran by the Ursulines. The other school was the Eliza Orzeszkowa Girls' Middle School, where most of the students were wealthy Jewish girls, "the merchant girls." Grandma paid her considerable tuition by giving them private lessons. The niece of Archbishop Leon Wałęga was quite out of the ordinary there. She was not one of the throng of grandma's pupils, as she was very bright.
According to my grandma's memories, Janka Wałężanka "was a brilliant student, very joyful and full of kindness towards everything." She studied pharmacy and later worked at drugstores. She liked her work, because it "allowed her to help the sick and the suffering, especially during the Nazi occupation." Janka, though, did not limit herself to helping solely through medication. During the occupation she rescued Jewish children, hiding them in various educational institutions. After the war she was awarded the Righteous Among the Nations Medal. Film crews from Israel would visit her; she was invited to Israel and went there twice. At the airport she was greeted enthusiastically by her classmates. They would accomodate her subsequently and organize parties and banquets for her.
Recently grandma began explaining that the reason behind those feasts was that Janka was also rescuing their classmates. "They were all saved because of her." Earlier, however, grandma said that nearly all her colleagues died in the war. Perhaps Janka helped to rescue a few, and maybe all of them – I do not know. Almost all of the rescued ones left Poland after the war. Grandma felt that loss deeply, especially since, in the hum of work and family, she could not stay in touch with them. Years later, already retired, she tried to seek out her old friends. She wrote to Janka, too. And she, grandma relates, "wrote me a lengthy letter, telling me everything she knew about our schoolmates, including those who did not live in Israel. She wrote what they did, what the names of their husbands, children, sons- and daughters-in-law were. She wrote about the condition of those still alive and gave the dates of death of those no longer among us. Her memory keeps impressing me. Unfortunately she had no information about Anita [grandma's closest friend and long-time student, who went missing after the war]. Many of my friends were dead by then, and now Janka is gone."
Attached is a letter of Janina Filozof-Wałęga to my grandmother, written in 1984. She writes she was in Israel in 1975 "for 6 weeks, invited because of another occasion." I have checked that Janina Filozof-Wałęga was awarded the Righteous Among the Nations title in 1975. She did not mention it to my grandmother.
The quotes come from the memories grandma wrote down, with a photograph of these memories attached.