Interview with Maria Iwaszkiewicz-Wojdowska
Maria Iwaszkiewicz-Wojdowska tells her granddaughter Ludwika Włodek about aid given to Jews by Anna and Jarosław Iwaszkiewicz, Maria's parents, recognized with the Righteous Among the Nations title.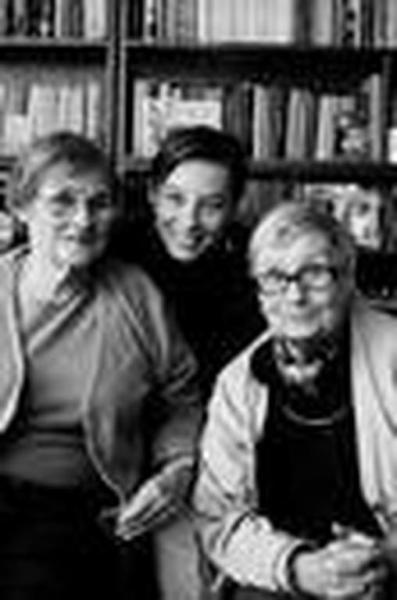 Ludwika Włodek: Did your parents talk about helping Jews at home? Did you and Teresa (Maria's sister) know they were doing this?
Maria Iwaszkiewicz-Wojdowska: We did.

But what was it like? Did they take you aside and say that they are engaged in such activities?
I remember this one dramatic conversation. There was a boy who was to be kept safe. Parents asked us whether we agreed to that. It was always more difficult with boys - they were circumcised, after all. The blackmailers would begin by ordering them to take their pants off. That's why it was so humiliating. And that time the parents decided not to take the boy in. They believed that too many people were coming and going to Stawisko, our house in Podkowa Leśna. Still, Stawisko was a shelter for numerous Jews. I have high praise for Podkowa Leśna and its residents. There were no sellouts, and there was really a lot of Jews sheltered there. Among them was the future known journalist, Lucjan Wolanowski. His family name was Kon. He was a very handsome guy, yet you inevitably saw his Jewish roots right away. He was dark, with burning eyes. In the summer he would only go out in the evenings. We were friends.

Did he live in Stawisko itself?
No, in Podkowa, nearby. Podkowa had far fewer people then. There were but a handful of such houses, where the so-called youth would gather, doing soirees, meetings. [Lucjan] was often among them. When it came to the Jews, the main issue was providing them with documents. My mother was an expert on that. She was cooperating with a Włodzimierz Sudzicki, who was working in the Brwinów gmina office. Each kennkarte had to have a stamp, a German seal. Sudzicki, when he was arranging the stamps on the documents, knew full well who they were for.

Did he take any money for that or was this done out of kindness?
He didn't take money. He'd just take a German out for vodka and we'd give him money for the vodka. My father gave him money, he'd go, the German would stamp the papers and that was it. Later, after the war, Sudzicki even had some unpleasantness because of that, people were picking on him for being the Germans' drinking buddy.

Tell me something about the people the grandparents helped.
For instance there was the Karwaser family. Izrael Karwaser had a fuel warehouse in Brwinów. He was a wealthy man. Just before the war the Karwasers bought a plot of land from my parents. They paid for it, but because the war broke out, they did not draw a notary deed, so officially the plot was not sold, it was still the property of mom and dad.
When the Karwasers' two sons, Marian and Natan, were placed in the ghetto, mom came up with the idea that they would sell the plot again, as her own, and take the money to them, to the ghetto. And she did. My mom, a petite woman, went to the ghetto to bring them the pouch of dollars. You entered the ghetto via the court building, a real maze. When mom was coming out, she got lost and instead of walking out on the Aryan side, she got into the ghetto again. A Jewish policeman stopped her for not wearing the armband. Mom was petite, with dark eyes, you could think she was Jewish. She broke free from the policeman, walked into a gate, calmed down. She went back to the courthouse and made her way to the other side. The two Karwasers used the money to pay off the guards. It was a popular way of leaving the ghetto. Natan went to the partisans and after the war left for Israel. Mom found an apartment for Marian in Milanówek. He was staying there until the end of the war; he had no trouble.

What happened to him later? Did he stay in Poland?
Even after the war, we were still in touch. When Hotel Europejski became a restaurant again, he worked as a cloakroom attendant there. He always showed great gratitude to my parents, he sent us wishes for every holiday. He died young. I found his grave near the grave of my husband (Bogdan Wojdowski) at the Jewish cemetery. Another interesting story were the Kramsztyks. They had a daughter, a bit older than me. I was about fifteen, so she was about seventeen. Her father was a lawyer...

They were the grandparents' friends from before the war?
No, parents were friends with Roman Kramsztyk, the painter. And Andrzej, the lawyer, was his cousin. My parents did not know him and his wife well before the war. They were living in Łódź. They did not go to the ghetto, they were hiding from the start. Someone began blackmailing them. When they were in real danger, they went into deep hiding. They were in the woods, I think it was on the other side of the Vistula. They wrote a card to my parents. I remember it well, some strange girl came to us. They asked a strange girl, about twelve or thirteen, and asked her to take the letter to my parents, to Stawisko.

How did they know to turn to your parents?
Who were they supposed to go to? We were the only ones at hand. My mom went to get them, in a cart I think, one horse. Father stayed, he would be too visible (very tall, with characteristic features) to risk it, he might be recognized. Mom got on the cart and went for them.

But she did take a carter or a coachman?
Yes. There were horses and a cart in Stawisko. And when they brought the Kramsztyks with their daughter, we had to separate them, unfortunately. The parents found a place for Mr. Kramsztyk in Milanowek, and Mrs. Kramsztyk and the girl were living at a farmstead, very close to Stawisko. Since Stawisko was registered throughout the occupation as a gardening institution, and father as a gardener, parents registered Mrs. Kramsztyk as a garden worker. And so she somehow made it through the worst times. Father also had an apartment and documents prepared for Roman Kramsztyk. He talked to him on the phone about this – you could phone the ghetto. Still, Roman didn't want to leave. It may be incomprehensible in normal times, but there were quite a lot of such cases then. They wouldn't leave, they wanted to stay with their brothers, their family. They wanted to go together.

And other rescued?
There's also the story of the Muszkats. They were an elderly couple, the parents of our teacher who was preparing us for our high school finals, Mrs. Nowicka [Aniela Neufeld, later Nowicka].
Mrs. Nowicka, the mother of Janka Nowicka, Teresa's friend? Yes, yes. I remember I found the first apartment for them in Podkowa. Then another one. They had a stroke of bad luck, someone was blackmailing them, trying to swindle them out of their money. I don't even hold blame for the man anymore. He was a morphine addict. He wasn't fully aware of his actions, and he'd do anything for morphine, he had no money. And those two elderly people were also taken from Stawisko in the horse and carriage. I remember the November night.

So I've heard. Teresa told me, and despite the tragedy, it was supposedly quite funny.
They were very old and didn't really get everything. They were indignant. "Where are they taking us?"; "Are we going to Warsaw?" – they were asking in French. And on an autumn night like that, in the fog, the sound carried several kilometers! But fortunately nothing bad happened. Back then Stawisko was surrounded by villages, actually just individual houses, inhabited mostly by poor people. The Muszkats were very lucky. Their host, supposedly a roughneck and drunk, grew so fond of the old Mr. Muszkat that he was treating them like family. His children were calling Muszkat "grandpa." The man's name was Szuta, the Muszkats stayed with him until the end of the war.

Tell me, how was this arranged? Did grandma go to these potential hosts and tell them there were two Jews to be taken in?
I think that in the case of the Muszkats she just said it was an elderly couple. I don't know for sure, but I think mom had an eye for finding good people. For instance Karwaser was taken in as an Aryan man.
Did your mom somehow pay the people who were hiding Jews? No, they were usually staying as a co-tenant. In Warsaw it was very dangerous, outside of the city it was easier.

And those hiding Jews were paying for such a place?
They would pay with their own money. The Karwasers, for instance, were rich. Mom would only visit them. Sometimes she'd bring some food, a treat. She'd talk with them. I think what these people missed the most was the possibility of human contact. They were afraid to go out, especially if they had "Semitic looks", like Mr. Kramsztyk. We also had an acquaintance in Brwinów, who was later hiding in Stawisko. His name was Gelbart. His situation was quite a paradox: his wife was German, and for some time he was living under a sort of an umbrella because of that, but later it came out. Fortunately they had managed to send their sons to acquainted landowners near Grojec, and he himself was from time to time staying in Stawisko. He was in trouble after the war, too; his having a German wife did not sit well with people.

What involved the most difficulty for Jews in hiding?
I think the worst things were the loneliness and the feeling that through their mere presence they were a danger to others. That's why it was so important not to show that in front of them. And that's how my first husband's cousin, Gajewski, a squanderer and drunk, was acting. People were even talking that he was cheating in cards. One day his doorbell rang, Gajewski went to get the door, and there was Kazimierz Brandys, saying he had no place to stay. And Gajewski says: "Kazio! How splendid that you figured out I had no one to drink with. Come on, we'll get a drink, make some sandwiches."
Brandys told me that story. He said that a lot of people gave him shelter, yet there was always fear in their eyes. And that that one time he had spent a lovely evening. Gajewski was, in general, a charming man and that night Brandys, for the first time in a long while, felt he was welcome, vodka here, this, and that…
One time Wanda's father, Professor Wertenstein, came to us to Stawisko. He married into the family in Turczynek (an estate near Stawisko, home to the Meyers). It was an autumn night. Someone rang the front door bell. And that was a bad sign. During the occupation everyone would come in via the kitchen. Father went to get the door, and there was Professor Wertenstein. At the time they weren't living in Turczynek anymore, they were hiding in the countryside. The professor said he had nowhere to stay the night and that he would leave the next day. He had what they called the wrong looks: black, curly hair, dark eyes. He was a brilliant physicist, a student of Maria Curie-Skłodowska, he worked at her lab in Paris. Naturally, we took him in, there was already one Jewish woman and a radio at the house. He stayed the night and the next day he set off for Hungary. That blackness of his did not stand out in Hungary. He died from stray shrapnel when the Russian army was taking over Budapest.

What happened to his daughter Wanda and her mother?
At first they were in the country, and then they were staying in Kraków. Her mother did not have the Semitic features her father did, so they managed somehow. But they were very rich, it was the poor ones who had it hardest.

And the Jewish woman who was already in Stawisko, who was she?
Mrs. Aniela Nowicka. She came to give us lessons. She was also a physicist, she worked in that same lab of Curie-Skłodowska. Nowicka wasn't in hiding. I remember one scene: I was standing on the porch with a servant, and Mrs. Nowicka was coming in from the gate. The servant was always very courteous with her, as soon as she'd come, he'd give her a sandwich, offer her tea. And as we were standing there, watching her approach, he said to me: "Them Germans are dumb, so dumb, all you need to do is look at those legs." He was a simple man, he knew perfectly well who Nowicka was, and still she could feel safe at our place. We simply were lucky with people.

How many people did your parents help altogether?
Hard to say. For some time the niece of [Mieczysław] Grydzewski was also staying with us. Grydzewski's sister married a Pole, her daughter had a different name, but she was still of Jewish descent. And there was a great number of people who would come and go, they did not stay for long. Especially at first, before the ghetto was closed. It was worse later. We don't know what they did with the Grodzisk Mazowiecki Jews. And we don't know what happened to old Karwaser. We can only guess. One person knew a little, so did another. We didn't talk about it even among the family.

Talk what about? Helping Jews?
We did talk about that. But nothing specific: what, where - we didn't talk about that much.
Why?
So that as few people as possible would know, in case of trouble. If you didn't need to know something, you didn't ask. And it didn't just apply to helping Jews. After all, father was distributing the money coming from the government in London. When the money would arrived, we didn't talk about whom father passed it to, either. When I began attending underground trainings, father told me: "Be careful, because if you're caught, then there'll be another one and another, and they'll have the whole chain." The Germans had such methods, that you couldn't really blame anyone for talking.
Tell me about applying for the Righteous Among the Nations medal for your parents, Anna and Jarosław Iwaszkiewicz.
My parents were very modest; they didn't even think to apply. I did it, after their deaths. (Anna died in December 1979, Jarosław - in March 1980) I needed to submit my statement and the testimony of a rescued person. The Kramsztyks' daughter made the testimony. The process was pretty fast. But when I was in Israel in 1986 it was still in progress and that's why I couldn't plant a tree. It hasn't been planted till this day.
Let's talk about Bogdan. How was he saved?
Bogdan (Wojdowski) came from a poor Jewish family. His father was a carpenter and an upholsterer. Bogdan was born in 1930. He had a sister, two years younger. Their parents realized that they would be transported to a camp (concentration camp). In the autumn of 1942 Bogdan's father gave him money, everything he had. Bogdan hid it in his shoe. "Be careful, you'll be on your own", his father told him. He didn't even know where they were taken. He thought they died in Majdanek, but it might have been Treblinka.
How did he leave the ghetto?
An agreed janitor waited for him right outside the wall. But when he realized that Bogdan's parents were already gone, he took his money and Bogdan was left alone in the street. A twelve years old boy and penniless.

What happened to his sister?
She left the getto in a different time. Koszucka sisters helped her. They took her to some nunnery. I have to say, the nuns did a wonderful job, they rescued a lot of girls like that.
Who were the Koszucka sisters? Bogdan's mother knew them before the war. She was involved in some leftist youth organization, overseen by them. They were the daughters of a renowned ophthalmologist. They lived in Żoliborz (neighborhood of Warsaw). They founded a magazine titled "Przyjaciółka" ("Girlfriend") and worked there. They helped Bogdan too. They were told that he was going to leave the getto and needs to be taken in. They managed to find him as he was wandering the streets after being thrown out by the janitor. They arranged false papers for him. I still have the photograph he had taken for the false passport. His name was Stasio Kamiński. The Koszuckas were a couple of zany socialists, very good people.
Where did they place Bogdan?
At first he was aided by various people, or he'd spend the nights in empty apartments, and there was a lot of those in Warsaw then, especially by the borders of the ghetto. He used to tell me one story of those days that really touched me. He was locked in an abandoned apartment in Zielna street. It was a part of the ghetto for some time, but was later excluded from it. Someone brought him food, he had a place to sleep. They told him that he could not open the window nor make any noise, so as not rise any suspicion. And there were huge bedbugs there; the bugs would come out at night, when it grew dark. And they were biting the poor child – at twelve, he was still a child. Naturally, that is a small thing compared to all the potential dangerous. But somehow it's so horrid, I keep thinking about it. To this day when I'm looking at photos of children from the ghetto, I always think one of them is Bogdan. I can't shake that off. Because one can't comprehend the Holocaust. You can't live with it and you can't comprehend it. (Bogdan Wojdowski committed suicide in the early 1990s).
What happened to Bogdan then?
There was a sellout in one of the Warsaw apartments. Bogdan made his way to the village of Leszczydul where he grazed cows. Later he moved to Ozarow, near Warsaw. During the Warsaw Uprising in 1944 Hungarian soldiers stationed there. The Hungarians were quite good to Poles. They gave them food, bread, some army soup. When Bogdan learned that the Russian army was already in Łódź, he walked to that city. And there he found a group of his acquaintances, from the Polish Socialist Party, or Communists, leftist, anyway. They took care of him.