"I remember how he took my hand". The story of Rachela Varejes
The circumstances surrounding the arrival of four-year-old Rachela in the Kruminis-Łozowski home, in the summer of 1942, are unclear. Asked years later, she, herself, says that she does not remember how she found herself there, but what she does know is that she owes them everything. Read the story of a Jewish girl Rachela Varejes nee Friedman rescued during the Holocaust in Jaszuny near Vilnius.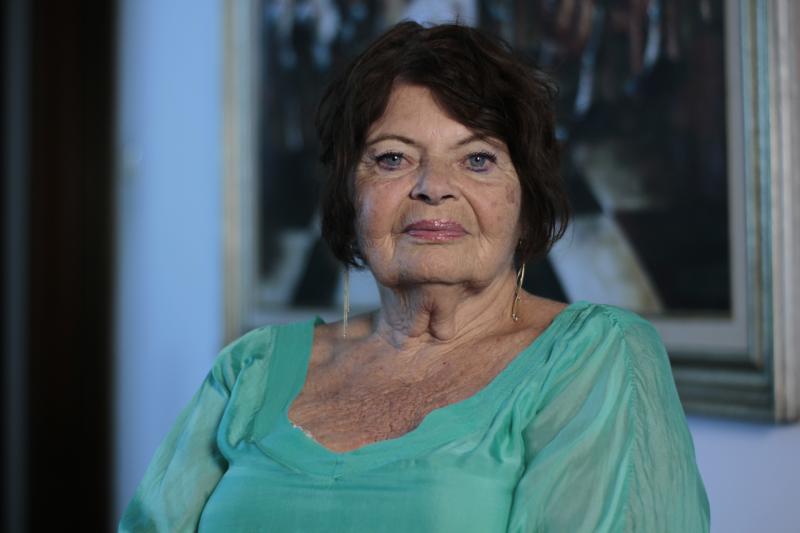 In October 2108, in an interview for the POLIN Museum of the History of Polish Jews, Rachela Varejes said:
He said, 'Do you want to come with me?' I said, 'Yes'. I remember that. I was almost four-years-old. […] I remember how he took my hand and brought me home. I was tiny. […] He was a very good person and she was too. […] I made them happy, I sang and I played.
She was born in Kaunas (today Lithuania), the second child of Zalman and Chaja-Estera Friedman. Her brother, Abraham, was seven years older.
German occupation of Kaunas, pogroms and executions of Jews
The Germans entered Kaunas in June 1941, the city having been under Soviet occupation since the summer of 1940. Within the following first days, Lithuanian nationalists had already organised a pogrom during which 800 Jews were murdered. Without food or water, between 6,000 and 8,000 Jews were locked inside one of the preserved Tsarist forts around Kowno. Soon after, 1,200 of them were selected and then shot. Pogroms, murders and synagogue desecrations continued throughout the city. At the end of July, the Germans established a ghetto in Williampol in which they imprisoned almost 30,000 Jews. Further executions were systematically carried out in the forts, while liquidation operations began in the ghetto.
Rachela's parents
Rachela's father, Zalman, a journalist, was murdered by a Lithuanian nationalist. Chaja-Estera managed to get out of the city with her children. Just how the children became separated from their mother, and then from each other, is not known. Chaja probably left the children in the care of a Lithuanian family and they then fled for fear of the arrival of Germans. Chaja-Estera most probably perished in Lenkiszki near Jaszuny where, on 25th September 1941, former Lithuanian Army soldiers, in the service of the Germans, carried out a mass murder of Jews.
Kruminis-Łozowskis' home in Jaszuny
Maria and Antoni Kruminis-Łozowski lived in the small town of Jaszuny, 30 kilometres from Vilnius. Their home stood near the railway station, which is where Antoni worked. He was the yardmaster for the fifty kilometre section of the Vilnius-Lviv railway from Wołczuny, Porudaminy and Taraszyszki through to Stasiły. He supervised the technical condition of the tracks.
They were aged both in their fifties and had raised four children. They had little Rachela baptised and gave her the name "Anna". They called her "Hanka" and people were told that she was the illegitimate child of their eldest son. The girl called Antoni and Maria "daddy" and "mummy".
Rachela-Hanka remembers the place, the sense of security, the beehives and the household in which she helped Maria.
It was a big house. Downstairs, there were three rooms on one side and two on the other. Upstairs ... How should I call it – a "Czierdak" [attic - ed.].
In an article for the "Kurier Wileński", about the Kruminis family and their wartime story, the author Anna Pieszko wrote:
The house was one of the most beautiful in Jaszuny. It had an open porch with a veranda which featured strongly in the life of the family. [...] Meals were eaten there, people talked there, women sang there and corn was threshed there. Upstairs were the attics where the kids liked to rummage, because it was there where we could find various, wonderful things.
The scar from before the war, meeting the brother Abraham
According to an account, cited by the Yad Vashem Institute, the little girl had been brought to the Kruminis family by her brother Abraham. However, doubts about this course of events have been aroused by the fact that, after the War, the boy searched for his younger sister for a long time. He survived by working in the villages and, after the War, he made a living from petty trade which eventually became illegal and he ended up in jail. He did not reach Jaszuny until 1949.
Rachela continued to live with the Kruminis family. In order to avoid any possible shock, her brother was introduced to her only after several visits. At that time, Abraham was to then tell Rachela that she had a scar on her head – the result of a wound, from before the War, caused by a small spade while they were playing. She did have such a scar.
Rachela adopted by the cousins, life in Vilnius, emigration to Israel
Teenage Abraham was not capable of caring for his younger sister. In the meantime, the siblings were sought for by a cousin of their grandmother Batia (nee Krum). He had learned of the children's existence from a letter sent by a cousin living South Africa. Iliya Szapiro helped to get Abraham out of jail and took steps to adopt Rachela. That process took several years. The Kruminis-Łozowski family did not want to part with the little girl. In 1950, Rachela was finally adopted by the Szapiro couple. Shortly after, Iliya died tragically – he drowned during a seaside holiday.
Rachela graduated from medical school in Vilnius. In 1959, she married Misza Varejes. Together, they emigrated to Israel in 1972. Abraham, Rachela's brother, and Hinda Szapiro, Iliya's wife and her adoptive mother, had both gone there earlier. Until her departure, Rachela was in contact with Mari and Antoni and visited them in Jaszun several times.
The Kruminis-Łozowski family honored, meetings after years
In 2005, Maria and Antoni were both posthumously honoured with the title of Righteous Among the Nations. The Yad Vashem Institute received information about the Kruminis family from the younger of Rachela's two daughters, Rina. For Rachela, herself, the subject was too painful. However, a few years after returning to her past history, in 2011, she travelled to Jaszuny. She remains in contact with the next generations of the Kruminis family. In 2018, they met again in Vilnius. Rachela speaks Polish with the Kruminis family, a language she speaks fluently, even though she has not used it in over sixty years.
---
Bibliography
Klara Jackl, Interview with Rachela Varejes, POLIN Museum of the History of Polish Jews, Israel, October 2018
Anna Pieszko, Upamiętniono Kruminis-Łozowskich – "Sprawiedliwych wśród Narodów Świata", "Kurier Wileński", 4.07.2016, pages: 9-11.
Olga Zabludoff, Mystery of how Rachel survived [access: 9.10.2019].
History of the Kaunas Jewish community, Virtual Shtetl [access: 9.10.2019].