Farewell Jadwiga Rytlowa
Farewell Jadwiga Rytlowa
Had we arranged to meet for the last time, then we would have arranged to meet you in Old Bielany. We would have arrived on bicycles, as we did once in the Old Town Square. I would have allowed you to take a ride around it. The green gate would be slightly open for me. I would enter the cramped hallway. You would watch as I took off layers of clothes and then suggest that it would be wise to still wear something warm because it was cold inside. Mushroom pate would be waiting on the table in the kitchen and the kettle would be boiling for the instant borscht.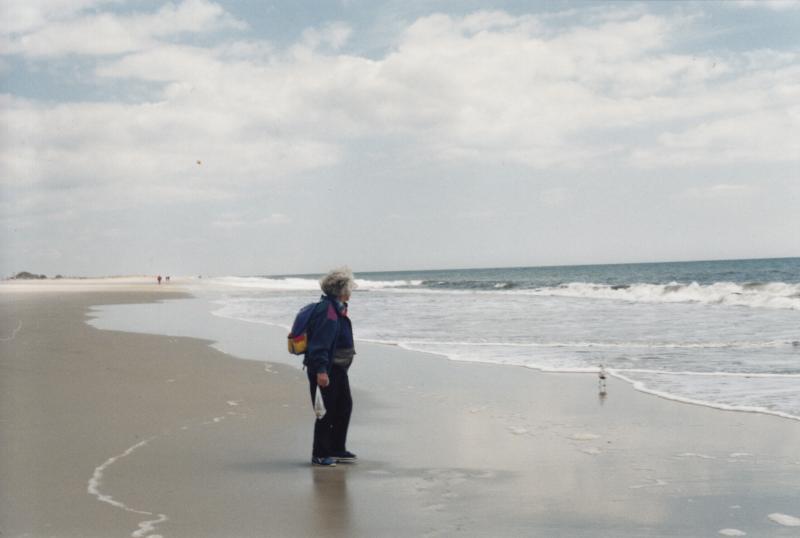 If it had been spring, I would have gone into the garden where the red tulips were blooming. When we first met, you were digging them up before winter arrived. If I had come with Szymek, he would be a given a stool on the verandah and building blocks to play with – I always describe you as the one who once arranged building blocks.
On the verandah, the sun would be shining too strongly, so we would be sitting opposite each other at the table in the lounge room. I'd be looking of your cloud of silver hair and, with any guilt, help myself to more pate. Next to us would be a bookshelf and we would begin our conversation about books. You would be up to date, most probably having read "Sprawiedliwych zdrajców (Righteous Traitors)". I would share my praise of "Jerozolimą (Jerulsame)", a book about the city which, thanks to you, I visited for the first time. You would enquire about Joanna and Klara and if they had already found men in their lives.
Then we would climb the stairs to your study. Violets would be blooming on the window sill, surrounded by the green of the garden. You would sit at the computer and open a document containing the story of another person whom you had personally gone to see, whom you had invited to confide in you their past. I would do some editing, there would be a dispute about the words and the format, but somehow the work would progress.
Perhaps Janina would telephone. You would have an everyday chat with her and arrange your next meeting with her in Poland or in Israel. If it was February, you would discuss walking together on the Tel Aviv beach in March. In June, you'd be planning an expedition to Bieszczady for kayaking and sailing.
If we had met for one last time, I would have descended those creaking stairs to the doorway and arranging my next visit – just like last time.