Szymon Gottesman: Secretary of "Żegota"
At POLIN Museum of the History of Polish Jews, we wish to remember those Jews who helped other Jews on the "Aryan side" in occupied Poland. The Yad Vashem Institute does not honour these people with the title of Righteous Among the Nations, as that title is only bestowed upon non-Jews. They, also, are Righteous, as understood in the broad and universal accepted sense of the word – they are people who opposed the totalitarianism of Nazi Germany. They also defended dignity and human rights. Read the story of Szymon Gottesman from the Polish Righteous website section: Jews helping other Jews on the "Aryan side".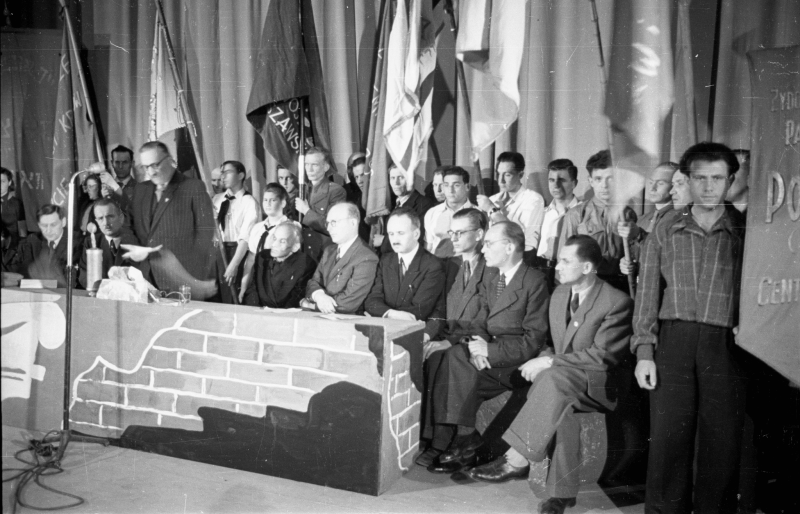 He was a doctor of laws, a lawyer, a community and political activist and a Zionist. During World War II. he fled from Kraków to Warsaw, where he served on the Executive of the Jewish National Committee. During the final months of the War, he was Secretary of the Council to Aid Jews "Żegota". Afer the War, he emigrated to Brazil (Rio de Janerio).
---
Zionist. Scraps of biographical information
He was the son of Markus and Rywka (nee Fruchter). His year of birth is unclear. There are at least several versions – 1882, 1884, 1885 and 1886. This uncertainty arises from documents produced during the occupation and also from adapting to post-War conditions (as, for example, after 1945, his parents' names were given as "Jan and Helena"). He lived in Kraków from at least 1917 where, in 1919, he married Anna Ester Landau. He had, at least, one child, a son Artur Marcel (1919–2002). His pre-war address was 4 (St.?) Stanisława Street.
He was a long-term member of the Zionist movement, he was a friend of Dr. Jehoszua Thon. He was a committee member of the Liberal Zionists of Western Galicia, as well as being a member of the central Zionist institution in that region. After the War, he returned to Kraków where, for a short time, he lived at 8/4 Basztowa Street.
Help for Jews. Activity during the German occupation
The circumstances surrounding his escape from Kraków to Warsaw are not precisely known, however it is known that it took place at the end of 1941 or at the beginning of 1942. From the autumn of 1942, he was involved with the management of the Jewish National Committee. He was not a member of its Executive which included Adolf Berman, Icchak Cukierman and Daniel Guzik, but he is counted as one of their closest co-workers (like, for example, Emanuel Ringelblum, Cywia Lubetkin are Basia Temkin-Berman).
Linked with many outstanding Zionist activists, among them being Anzelm Reiss, Aria Tartakower and Ignacy Schwarzbart, he was a member of the National Polish Council in exile. Before the War, he was Chairman of the Zionist Organisation of Kraków. This was certainly the reason for him being mentioned in the ŻKN report written by Schwarzbart on 15th November 1943:
"The lawyer Gottesman from Kraków, finds himself in Warsaw and is working together with us. He sends you and all Liberal Zionists his sincere best wishes".
Working with the ŻKN had the overall character of helping other Jews in hiding. He worked closely in this area with Daniel Guzik, managing one of the "wings" of the ŻKN which concentrated on groups under its care. He also took part in providing help to camps in the Provinces, particularly to the camp in Płaszów, in conjunction with the activities of the "Żegota" Council to Aid Jews. During the Warsaw Uprising, he was in the central area of the city. He then found himself in Milanówek, where Ferdynand Arczyński and Mikołaj Feiner reactivated "Żegota". Due to A. Berman's absence, he was called upon to act as Secretary of "Żegota", a position he occupied until January 1945.
Emigration to Brazil. The fate of Szymon Gottesman after the war
After the War, he was active in the Zionist Party. His publications included "Ichud". In November 1947, when he was already living in Brazil, he contacted the Central Committee of Polish Jews regarding regaining property which was then occupied by Polish citizens of modest means.
Dr. Marcin Urynowicz, ed. Mateusz Szczepaniak, December 2017 (edit: March 2021)

---
Read more
---
---
Bibliography
---
Marek Arczyński, Wiesław Balcerak, Kryptonim "Żegota". Z dziejów pomocy Żydom w Polsce 1939–1945, Wydawnictwo Czytelnik, Warszawa 1979
Władysław Bartoszewski, Zofia Lewinówna, Ten jest z ojczyzny mojej. Polacy z pomocą Żydom 1939–1945, Wydawnictwo Znak, Kraków 1969 (and later editions).
Teresa Prekerowa, Konspiracyjna Rada Pomocy Żydom w Warszawie 1942–1945, Państwowy Instytut Wydawniczy, Warszawa 1982 (and edition extended and supplemented by A. Namysło in 2020).