Vale Professor Janusz Durko (1915-2017)
With great sorrow, we received the news of the passing of Prof. Janusz Durko – an outstanding historian, citizen of Warsaw and museologist, honoured in 1989 with the title of Righteous Among the Nations. He received many other honours including the Grand Cross of the Order of Polonia Restituta, the Gloria Artis Culture Service Medal and, from the City of Warsaw, the title of Homo Varsoviensis. He was the creator and, for over half a century, the Director of the Warsaw Historical Museum. He passed away on 6th September 2017 at the age of 102.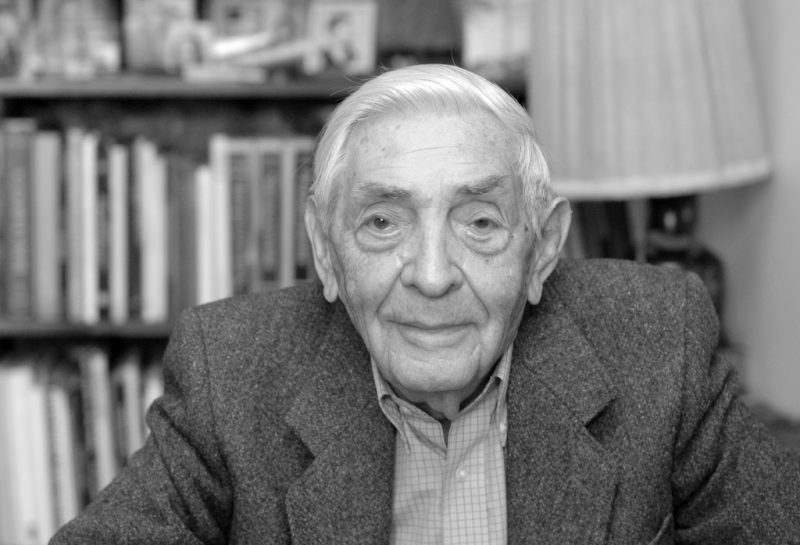 Born on 23rd February 1915 in Warsaw, he was the son of a Polish Socialist Party activist Jan Durko and Janina (nee Żyszkowska). In 1934, he graduated from the Jan Zamoyski High School and, in 1938, graduated in history at University of Warsaw. During his studies, he met his future wife Janina Pikulińska (1915-2002). After their wedding in 1942, he lived at 6 Krechowiecka Street in the Warsaw suburb of Żoliborz.
During World War II, he worked as Secretary of the Board of Management of the Zarząd Społecznego Przedsiębiorstwa Budowlanego (Public Building Enterprise) in Żoliborz. The SPB also employed Jews Żydów. For many of them, Janusz and Janina Durko provided a hiding-place. Among those to be hidden in their apartment were Józef Gronek (Jakub Hersz Szpiro), Leon Rytowski and Irena Launberg with her five-year-old son. Another around twenty ghetto escapees found temporary shelter these until hiding-places could be found for them. They also helped Wacław Marciniak, his wife and Aleksander Węgierko.
They later moved to an apartment on Kasprowicza Street. At that time, Józef Gronek to a warehouse which they had rented on Senatorska Street. Janina's mother, Barbara Pikulińska, remained in Żoliborz together with Irena Launberg, who lived there until the outbreak of the Warsaw Uprising, when she joined the Durko couple who, by that time, were living near Warsaw.
The majority of those whom they cared for survived the Holocaust.
After the War, Janusz Durko worked as a historian. From 1951 to 2003, he was the Director of the Warsaw Historical Museum, today's Museum of Warsaw. Throughout the course of fifty years of work, he wrote more than 140 publications. He received many Polish and overseas honours for his services to culture.
On 18th April 1989, he and his wife Janina were honoured with the title of Righteous Among the Nations. Present at the ceremony was Holocaust survivor Józef Gronek who, throughout his life, retained close contact with the Durko couple.
"Żoliborz was a kind of enclave, a closed environment, where hardly anyone thought of going to the ghetto", recalled Janusz Durko in an interview with POLIN Museum of the History of Polish Jews. Over the course of two conversations, in 2009 and 2014, he told his story which we have presented on our website and in our virtual exhibition "The Right Address. Hiding Jews in Occupied Warsaw".
Professor Janusz Durko died on 6th September 2017, in Warsaw, at the age of 102.
The funeral service will take place on 20th September 2017, at 12.15 pm, at St. Jozafat church on 90 Powązkowska Street at the Powązki Military Cemetery.
---
---
---