Vale Katarzyna Meloch (1932–2021)
With great sorrow, we learned of the passing of Katarzyna Meloch (1932–2021), Holocaust Survivor, member of the Children of the Holocaust Association and journalist. Her major work was editing (together with Halina Szostkiewicz) volumes of "The Children of the Holocaust Speak...", documenting the stories and personal experiences of Survivors. At POLIN Museum of the History of Polish Jews, as a witness to history, she would meet with students. She was with us for the 70th anniversary of the founding of the "Żegota" Council to Aid Jews. In 2019, she gave an interview for POLIN Museum's oral history collection.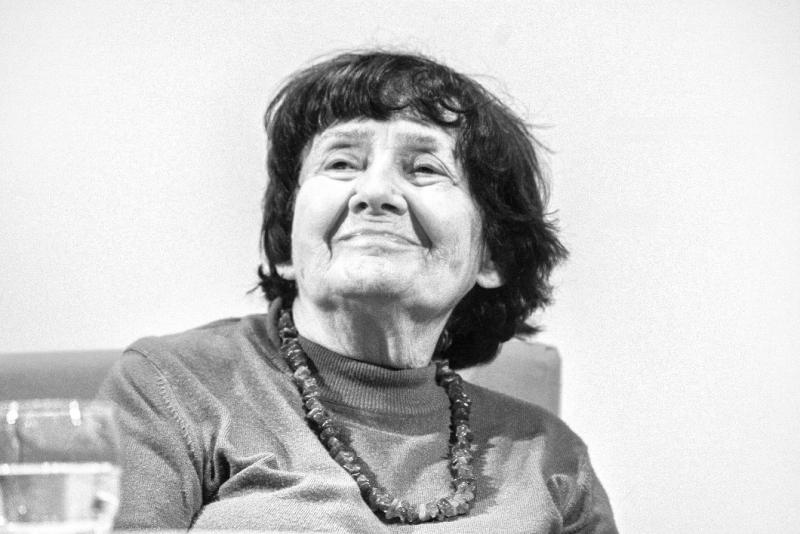 She was a journalist, editor and activist amongst the community of Holocaust Survivors. She was born in Warsaw into an assimilated, non-religious Jewish family, the daughter of historian Maksymilian and Wanda (née Goldman), a classical philologist.
Following the outbreak of World War II, with her parents, she fled to Białystok. In June 1941, after the Third Reich attacked the Soviet Union, her parents were probably murdered, while she ended up in an orphanage on Częstochowska Street, inside the Białystok ghetto. After some time, through the efforts of her uncle, she was moved to Warsaw, where she again ended up in a ghetto – at 12 Elektoralna Street. In August 1942, she was led out onto the "Aryan side". For a short period, she stayed in Wola with Jadwiga Deneko, an activist in the "Żegota" Council to Aid Jews. Later, she entered Father Boduen's Children's Home on Nowogrodzka Street. She obtained false papers under the name of "Irena Dąbrowska". She then went to Turkowice, to the convent of the Sister Servants of the Blessed Virgin Mary, where the sisters were saving Jewish children. She remained there until the end of the war.
---
» Read about the help Katarzyna Meloch received: The Sałek Family
---
---
After the war, she moved to Warsaw, wherer she attended the Maria Curie-Skłodowska No.12 State Junior and Senior High School. She studied Polish Philology and worked as a research at the Institute of Literary Research at the Polish Academy of Sciences. Later, she chose to work as a journalist and columnist. She was a contributor to the "Ty i ja" (You and Me) monthly, and was was published in "Więź". She was a longtime member of the Children of the Holocaust Association and co-editor of volumes of the "Childrenof the Holocaust Speak..." series. In a text ("Więź", April 2015), about her work, she wrote:
"I am a reporter for Holocaust Survivors – a reporter on the past. A Survivor's testimony, my testimony, is not enough. I seek witnesses to the past to become authors of their autobiographies."
She visited POLIN Museum of the History of Polish Jews on many occasions. In January 2019, she an oral history interview, in which she spoke about herself:
"I am a former child of the Holocaust, but that is old history. Now, I am a woman of a certain age [...]. In theory, I should feel like an old lady. But I don't feel like that and it feels like those years haven't passed by. […] I am still a journalist who tries to understand something and tries to do something. I am still a mother and grandmother. In fact, life rolls on and I don't feel any special difference between then and now. […] But the past greatly interests me, because I want to understand it and I don't understand everything."
She was very close to many of us. To her family, we extend our sincerest condolences.
Katarzyna Meloch's farewell will take place on Sunday, 1st August 2021, at the Jewish Cemetery on Okopowa Street.