Operation "Hamantashen for Ukraine" at POLIN Museum
On 11th March, POLIN Museum opens a new temporary exhibition – "From the Kitchen – Jewish Culinary Culture". This exhibition will be linked to operation "Hamantashen for Ukraine", when top chefs will visit our culinary area and prepare delicious, traditional cookies associated with the festival of Purim. You will be able to visit and watch them as they work. You can then taste the hamantashen and take some home with you. All proceeds from our Operation will be donated to Polish Humanitarian Action, for the benefit of the victims of Ukraine.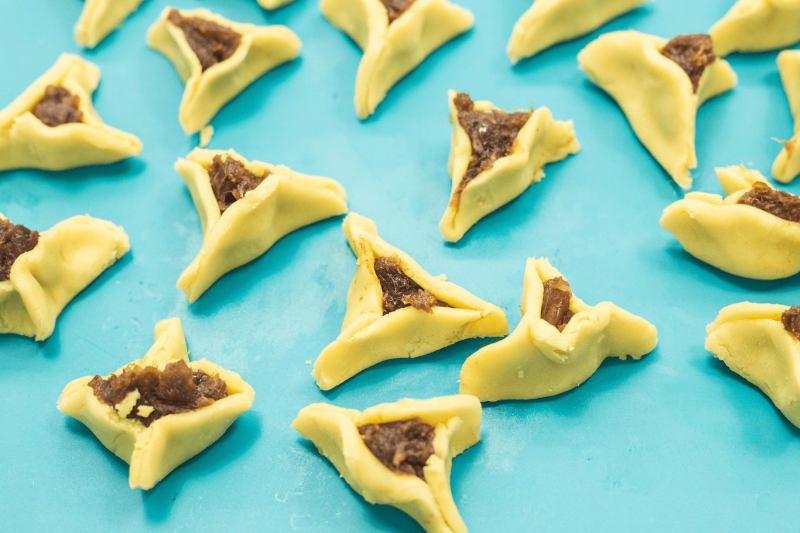 Can a plate of food tell us who we are, where we come from, who are ancestors were, who our neighbours are and what our lifestyle is like?
On 11th March, POLIN Museum will open its new temporary exhibition "From the Kitchen – Jewish Culinary Culture", which will present Jewish cuisine in various parts of the world, their methods of preparation, their meaning and origin.
One of these dishes is hamantashen, also known as "Haman's ears" – stuffed, triangular cookies, baked on the eve of the Jewish festival of Purim and eaten during it. This year, Purim is celebrated on 16th March.
Join in our support for Ukraine!
On 11th-12th March, in the POLIN Museum's culinary area, you'll be able to meet chefs Alessia Di Donato, Aleksander Baron, Maria Przybyszewska and Sabina Francuz, as well as culinary consultant Dominika Targosz. Together with volunteers, they'll bake delicious, traditional cookies. Everyone can come, watch our guests at work, make a donation to the victims of the war in Ukraine and, of course, take some hamantashen home with you.
This event os part of international operation "Hamantashen for Ukraine", initiated by Laurel Kratochvila, who you will also be able to meet. More and about operation Hamantashen for Ukraine.
11th-12th March (Friday-Saturday), 11:00am – 8:00pm, admission is free

11th March (Friday): Dominika Targosz, Maria Przybyszewska
12th March (Saturday): Aleksander Baron, Alessia di Donato, Sabina Francuz
Entrance to the POLIN Museum's culinary space is from the Ghetto Heroes Square. A donation to Polish Humanitarian Action can be made in the collection tin (cash only).
Let this be an expression of our solidarity with the victims of the war. Let's share the hamantashen with our family and friends – and support the peopleof Ukraine.
---
Laurel Kratochvila – Laurel Kratochvili specialties are classic Ashkenazi and French pastries. Since 2013, she has owned and operated Fine Bagels bakery in Berlin. She is also a co-founder of "Nosh Berlin", Berlin's first Jewish Food Week and organiser of the "Neukoelln Shtetl" festival of Jewish music and culture in Berlin. Laurel says that she swallowed the Ashekanzi food bug at the age of five, when she twice choked on her grandmother's gołąbki.
Aleksander Baron – one of the best young generation chefs, a restauranteur and a culinary journalist. An artist by education and a sculptor, he graduated from the Warsaw Academy of Fine Arts. He remained an artist, but moved from the sculptor's studio to the kitchen. Aleksander Baron's trademark is his original silage, which is now the basis for his cuisine. Baron's unique style is recognised both in Poland and around the world, thanks to the numerous shows in which he has appeared as a representative of our country.
Alessia Di Donato – born in Rome, she is a chef specialising in confectionary. She teaches culinary techniques and writes about food. She is a lover of art, travel and the good life. She is a graduate of prestigious culinary schools, including Le Cordon Bleau, the Accademia Italiana Del Pane and Paidei, a professional confectionary school in Milan, where she gained her diploma under the supervision of Massima Pica.
Sabina Francuz – for ten years, she has run bistro and catering Głodne Kawałki. She has worked with the Jewish Food Festival, creating a festival in Kraków's Cheder, where she initiated a series of Shabbat breakfasts. She founded the Mecyje Collective, with which she promotes the work and achievements of Fania Lewando. In collaoration with the Collective, she created a blog and published a book containing eighty of Fania's recipes. For a year, she has been involved in information architecture and interface design. She writes books and blogs, develops culinary content for social media and continues to cook. She loves edible words such as juicy, fluffy and aromatic, perfectly roasted to tempting whims, measured, bold and cooked recipes, written in a logical manner, with photographs showing the natural beauty of food.
Maria Przybyszewska – a trained photographer, she gained experience in the kitchen during her internship at the legendary Noma restaurant in Copenhagen. As part of her residency at Opasły Tom, she created a fuly plant-based original, tasting menu. She has been head chef at Youmiko Vegan Sushi. She has a popular Instagram account - @komfortowanko. About herself, she writes, "I'm a cook and a recipe writer. I would describe my kitchen as plant-based, without precisley defining my diet. I try to eat and cook consciously, making maximum use of local products and seasonal vegetables and fruits".
Dominika Targosz – ambassador for the Chefs for Change project and a consultant in the field of vegetable cuisine. After working for several years in the restaurant world, she became active in sharing her collected knowledge and experience. Together with restauranteurs, she conducts workshops in menu planning, the introduction of plant-based dishes and baked goods, She shows how to make them as delicious as possible. With great interest, she follows the development of meat alternatives, working together with food producers, bringing her chef's experience to the process. She is happy to return to serving dishes in guest pop-ups and on workshop trips. She is the author of the "Vegetable Kitchen Primer" and co-author of the "Plant Confectionary Guide", published by RoślinnieJemy.
---
---