NATIONAL BANK OF POLAND TO ISSUE "POLES RESCUING JEWS – THE ULM, KOWALSKI AND BARANEK FAMILIES" COLLECTOR COINS
On 15 March, the National Bank of Poland will issue a set of collector coins called "Poles Rescuing Jews – The Ulm, Kowalski And Baranek Families." Two coins, with face value of 20zł and 2zł, will be issued as a part of the "Poles Rescuing Jews" numismatic series. Its aim is to preserve the memory of Poles who provided help for Jews during WWII despite risking their own life in the process.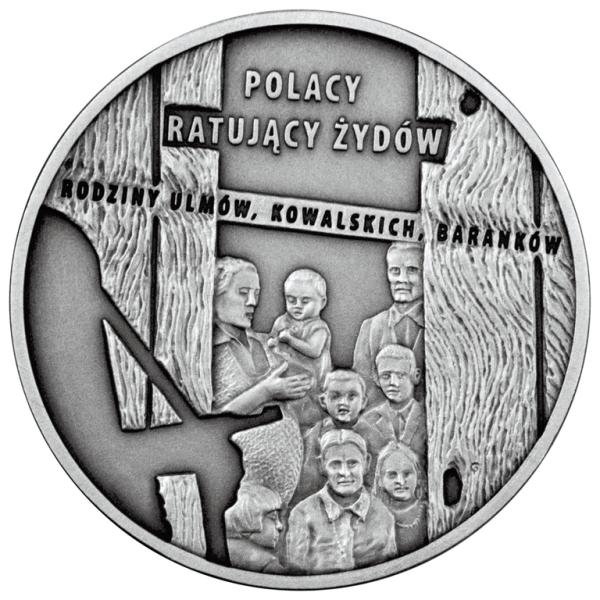 The coins present three families with a tragic history. The Ulm, Kowalski and Baranek families were murdered for giving shelter to Jews. Their fate clearly shows that the Nazi threats weren't inconsequential.
The Ulm family lived in a small village called Markowa. In the attic of their house, they hid eight Jews. They were denounced by an officer of the Blue Police. German military policemen shot the entire Ulm family – Józef, Wiktoria (who at the time was nine months pregnant) and their six children. They also killed the Jews that the family had been hiding. More about the Ulm family.
A similar fate happened to the Baranek family. Łucja and Wincent lived in a village called Siedliska near Miechów. They gave shelter to five Jews. The Nazi found the Jews during a search carried out in all the houses in the village. The Baranek family, two of their children and the Jews were all shot in the back of the head.
The Kowalski family was also punished for hiding Jews. Adam and Bronisława lived in Cieplew near Radom. They were hiding two Jewish people. On 6 December 1942, German military police entered their house and the houses of other inhabitants of Cieplew suspected of helping Jews. The Nazi set their houses on fire. As a consequence, 34 people were burned alive, including the Kowalski family with five children. More about the Kowalski family.
You can see the coins' design on the National bank of Poland website.
The coins will be officially presented in Miechów and Markowa.
On the occasion of the issuance of the coins, the next issue (12 March) of the "Uważam Rze" magazine will feature an article on Poles awarded with the Righteous Among the Nation title.