Discussion: "Who are the Contemporary 'Righteous'?"
Marking the 80th anniversary of the establishment of " Żegota" Council to Aid Jews (4th December 1942) and the 15th Anniversary this website (2007-2022), the POLIN Museum invites you to a series of discussions about the "Righteous".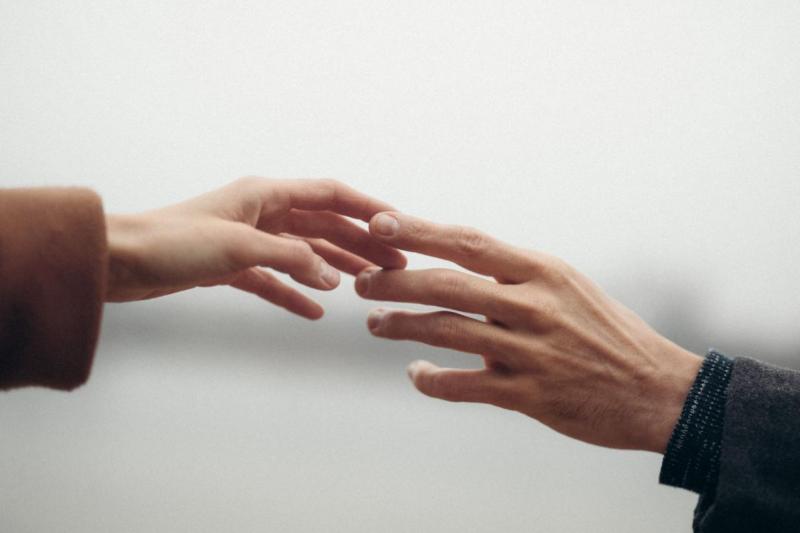 "The Polish Righteous are leaving us, but their stories remain. POLIN Museum deserves great credit for teaching about them on, for example, the Internet, and about the attitudes of Polish society towards the Jews" – Anna Stupnicka-Bando, President of the Polish Association of the Righteous AMong the Nations. She was honoured with the title in 1984.

"POLIN Museum has been telling the stories of the Righteous for a long time and will continue to do so. We are happy that they are presented using modern media" – Vice-President of the Polish Association of the Righteous AMong the Nations. She was honoured with the title in 2002.
A Discussion Series Marking the 80th anniversary of the founding of the "Żegota" Council to Aid Jews and the 15th anniversary of the Polish Righteous website
4th December 2022 will mark the 80th anniversary of the "Żegota" Council to Aid Jews – a Polish-Jewish organisation established to save Jews during the Holocaust in German-occupied Poland. Its members' tasks included searching for hiding-places for Jews on the "Aryan side", providing them with false identity documents or providing them with support.
In 2022, we will also celebrate the 15th anniversary (November 2007) of the "Polish Rightous – Restoring Memory" project, an initiative of Ewa Junczyk-Ziomecka and Ewa Wierzyńska, deputy directors of the then-established Museum of the History of Polish Jew. The project was initially run by the Association of the Jewish Historical Institute in Poland.
A year later (November 2008), the project's achievements – interviews with witnesses to history, studies, photographs – began to appear on the new portal www.sprawiedliwi.org.pl. The project came under the patronage of the Polish President Lech Kaczyński, who began the procedure of honouring, with high state decorations, Polish men and women who had saved Jews. The ceremonies were occasionally accompanied by publications prepared using this project's resources.
In 2012, the portal, along with all its resources, was handed over to the Museum of the History of Polish Jews, which had been established by the Jewish Historical Institute, together with the Ministry of Culture and National Heritage and the City of Warsaw. Since that time, the Polish Righteous website has continued to be developed. Along with the Virtual Shtetl portal, it is one of the two most important internet projects run by POLIN. Through them, the Museum presents knowledge about the history of Polish Jews and Polish-Jewish relations. It also makes its digital collection available which includes studies, oral histories, films and educational material.
For almost 15 years, we have presented the stories of the Polish Righteous, taking into account the complexity and diversity of attitudes of Poles towards the Holocaust. So far, we have published over 1,000 stories of help and numerous historical studies, presented in the context of Poland under German occupation. An important part of our website is the story of "Żegota", established 80 years ago.

Marking these two special anniversaries, we invite you to the POLIN Museum for a series of discussions about the Polish Righteous:

23rd March (Wednesday), 7:30pm: The Polish Righteous from a Historical Perspective

21st September (Wednesday), 7:30pm: The Legacy of the Righteous
14th December (Wednesday), 7:30pm: Who, Today, are the Righteous?
Discussions will take place online – broadcast of POLIN Museum's Facebook page »
A preview of the third discussion: Who are the contemporary "Rightheous"?(14th December 2022, 7:30 pm)
We will talk about people who aid refugees on the Poland-Belarus border and those who flee, to Poland, from the war in Ukraine. Can we call the the "contemporary Righteous"? What kind of help do they provide? What difficulties do they encounter?
We will consider who are the "Righteous" of today. Can we compare their aid with that provided by the Polish Righteous during World War II who did so under pain of death? To participate in this discussion, we invited Katarzyna Winiarska, an activist working on the Poland-Belarus border, Maria Złonkiewicz from the "Bread and Salt" Association and Igor Hórkow, who coordinates help for Ukrainian refugees in Przemyśl. The discussion ill be led by Michał Okoński - journalist, "Tygodnik Powszechny".
Currently, there are international organisations that help those in need, with the support of government, NGOs and business partners. There is no shortage of private individuals who, from their hearts and guided by empathy, wish to support others. Sometimes, however, those who help encounter social ostacism and money difficulties.
The Russian aggression against Ukraine united Poles from various backgrounds. At the same time, however, helping the victims on the Poland-Belarus border was difficult and, in many circles, was met with misunderstanding. From the beginning of the refugee crisis in 2015, people helping refugees, from outside Europe, have faced various problems and social opposition.
This meeting is the last in the series of discussions commemorating the 80th anniversary of the establishment of "Żegota".
Learn more and watch the previous discussions about the Polish Righteous.
---
Michał Okoński – dziennikarz "Tygodnika Powszechnego", gdzie pracuje od 1991 r. Zajmuje się stosunkami polsko-żydowskimi, wywiadem prasowym, a także piłką nożną. Autor książek Futbol jest okrutny i Światło bramki, a także wywiadu rzeki z s. Małgorzatą Chmielewską Wszystko, co uczyniliście...


Maria Złonkiewicz – trenerka, bałkanistka, kulturoznawczyni, teoretyczka turystyki, podróżniczka. Zajmuje się przemianami islamu bośniackiego oraz migracjami uchodźczymi i turystycznymi. Współtwórczyni projektu post-turysta.pl oraz współtwórczyni i prowadząca inicjatywy "Chlebem i Solą", która zajmuje się wsparciem osób z doświadczeniem uchodźczym, oraz współinicjatorka i współtwórczyni portalu uchodzcy.info dostarczającego rzetelną wiedzę na temat migracji uchodźczych.


Igor Horków – przewodniczący Przemyskiego Oddziału Związku Ukraińców w Polsce (ZUwP). Współzałożyciel "Zgodnej Inicjatywy Przemyślan na 100-lecie Niepodległości Polski. Wspólnie na 100", której celem jest wypracowanie pozytywnego modelu współpracy polsko-ukraińskiej w Przemyślu, mieście z trudną historią polsko-ukraińską. Od 24 lutego 2022 r. kieruje sztabem Społecznego Punktu Informacyjnego Pomocy Ukrainie w Domu Ukraińskim w Przemyślu. Działalność ZUwP w Przemyślu na rzecz osób uchodźczych jest stale rozwijana, co jest możliwe dzięki wsparciu partnerów i pracy wolontariuszek i wolontariuszy, których od początku rosyjskiej agresji na Ukrainę w działania na rzecz uchodźców zaangażowało się ponad 800.


Katarzyna Winiarska

– edukatorka i animatorka kultury, doktorantka w Szkole Doktorskiej Nauk Społecznych UW. Tworzy i prowadzi Teatr w Stodole w Teremiskach. Stworzyła

Wirtualne Muzeum Historii Żydów w Białowieży

. Należy do grona Liderek i Liderów Dialogu przy Forum Dialogu. Za swoje działania dostała wyróżnienie w ramach Konkursu Nagroda POLIN 2019. Od sierpnia 2021 r. jako aktywistka Grupy Granica i jednocześnie mieszkanka Puszczy Białowieskiej (choć obecnie nie na stałe) niesie bezpośrednią pomoc humanitarną uchodźcom w Puszczy Białowieskiej, a także współtworzy kolektyw Badaczki i Badacze na Granicy, zajmujący się badaniem kryzysu humanitarnego na granicy oraz archiwizowaniem i upowszechnianiem wiedzy o nim.
---
---