Become a "Daffodil Campaign" Volunteer
POLIN Museum of the History of Polish Jews is looking for Volunteers for our "Daffodil Campaign", marking the 74th anniversary of the Warsaw Ghetto Uprising.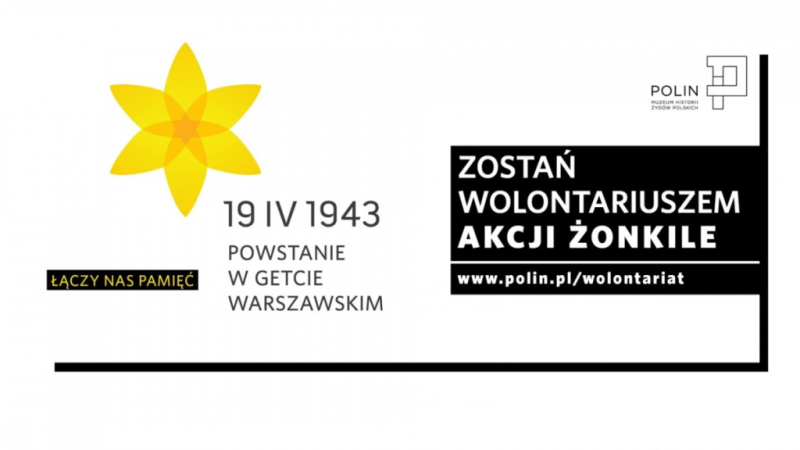 For the fifth time, we invite you to become a part of our communal-educational "Daffodil Campaign" on 19th April, marking the anniversary of the Warsaw Ghetto Uprising. In past years, thanks to our Volunteers, our golden flower symbol has been worn by tens of thousands of people in Poland and abroad. This year, with your help, we want that number to grow even more!
Together, we will be handing out paper daffodils on the streets of Warsaw. This is a flower linked with Marek Edelman, one of the leaders of the Jewish Fighting Organisation (Żydowska Organizacja Bojowa). On each anniversary, he laid a bouquet of golden flowers at the Ghetto Heroes Monument. We wish to continue this tradition.
We seek Volunteers who, from 25th February to 30th April 2017, will commit themselves to this exceptional project.
You can help us during these events!
Schedule:
February – April 2017
Training, written notes and lectures, meetings and walks for Volunteers
19th April
The "Daffodil Campaign" marking the 74th Anniversary of the Warsaw Ghetto Uprising
Location:
Warsaw
We offer:
the opportunity to participate in a large community activity
interesting lectures regarding the history of Polish Jews and the history of wartime Warsaw
interesting communication workshops
working together with interesting individuals
a Volunteer Contract
a Certificate confirming your efforts as a Volunteer,
for the most active Volunteers, we envisage the possibility of continuing to work together with the Museum.
Volunteer tasks:
to take part in the "Daffodil Campaign" - to hand out flowers on the streets of Warsaw and to participate in promoting the event and distributing information about it.
We seek Volunteers:
who are at least fourteen years of age. There is no upper age limit - we greatly value working with our community's seniors,
who are engaged, well-organised, responsible and creative,
especially, those who can communicate well and who have the ability to work as part of a group,
who are interested in issues relating to modern history - but this is not essential to becoming a Volunteer,
A knowledge of English or another foreign language would be an added advantage.
How do you become a Volunteer?
Complete the form below and, together with your passport-sized photograph (in electronic format), email them to wolontariusz@polin.pl, with the subject line marked "Żonkile". Applications close on 28th February 2017.
Download the Application Form:
If you are a Minor, please attach your parents' written permission.
Download Parental Permission Form:
Contact:
Tel: 22 47 10 389, 604 431 627
E-mail: wolontariusz@polin.pl
Coordinators:
Ewa Celińska-Spodar
Joanna Pitucha
Financial Support provided by Norwegian foundations and EOG through Iceland, Liechtenstein and Norway
www.eeagrants.org, www.norwaygrants.org
More about the "Jewish Cultural Heritage" Project